Apparently, Fuller House Is A Way Bigger Hit Than Anyone Thought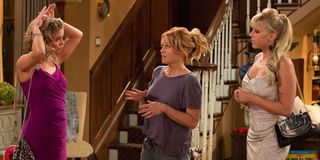 Netflix has been firm since it started putting out original programming that it wouldn't play the ratings game. Although the subscription streaming service won't release official numbers, ratings companies have gotten more savvy regarding how they measure Netflix viewership over the years. Recently, a company that tracks ratings took a good, hard look at Fuller House and a couple of Netflix's other shows, finding that they are doing very well against their network and cable competition. Reports indicate that Fuller House averaged more than 14 million total viewers per episode in the 35 days after the show premiered.
Results from Symphony Advanced Media Ratings (via Indiewire) indicate that a slew of Netflix users tuned in and caught Fuller House in the days after it was made available for binge-watching. During its first 35 days on the air, the show averaged 14.4 million total viewers and a huge 10.4 rating in the coveted 18-49 demo (not that advertising matters to Netflix).
Obviously, that's a lot of viewers per episode, but the numbers Symphony is giving out came from the first 35 days Fuller House was up. That's a long time to track a show, plus that's incredibly different than the numbers we get to see for network and cable shows. For example, when we take a look at popular cable series The Walking Dead, we can tell that the Season 6 finale initially did 14.2 million total viewers. That figure rose to 19.7 million total viewers in Live+7 numbers, which essentially means the number of viewers who caught the episode across multiple platforms in the week that it first aired on AMC. If we gave The Walking Dead the same courtesy that Symphony gave Fuller House and tracked 35 days, the number would likely be much, much higher.
What the Symphony numbers still do is give us an understanding of how many people are watching Netflix shows and how many young people especially are tuning in for Netflix's originals. For instance, although we can't directly gauge how popular Fuller House is compared to cable or network shows, we do have some understanding that Fuller House is well-watched, even if it's not so well-liked. We also know it's not quite as popular as The Big Bang Theory, Game of Thrones or The Walking Dead. Or, at least, there's less of an urgency to watch Netflix originals right away.
The most recent Netflix news is in stark contrast to numbers that have been bandied about prior. Shows like Jessica Jones and Narcos have been said to pull in around 5 million total viewers, although those numbers weren't for the first 35 days, either.
All in all, Netflix doesn't need the ratings to decide whether or not to keep an original on the air. The channel is looking to fill voids and find niche programming that can keep the interest of subscribers and, more importantly, bring in new subscribers. Whether or not a show brings in 5 or 14 million total viewers is in some ways irrelevant (although we are presuming Netflix does want shows that entice viewers to tune in). But it is exciting to see how the streaming service matches up against its competitors.
You can find out what the streaming service has coming up with our Netflix premiere schedule. In addition, check out what we know about Fuller House Season 2.
Reality TV fan with a pinch of Disney fairy dust thrown in. Theme park junkie. If you've created a rom-com I've probably watched it.
Your Daily Blend of Entertainment News
Thank you for signing up to CinemaBlend. You will receive a verification email shortly.
There was a problem. Please refresh the page and try again.