Fuller House Season 2: What We Know So Far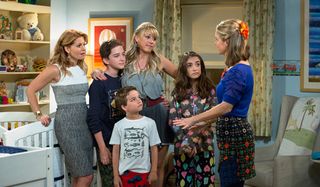 Full House was a sitcom for the whole family with so much charm that a whole generation of kids can still break out into the theme song at a moment's notice. Luckily, that theme song came back in an updated form in the Full House continuation Fuller House, which premiered on Netflix on February 26. All that is old was new again as D.J., Stephanie and Kimmy filled the places of Danny, Jesse and Joey to raise some youngsters and get into some serious shenanigans. Fuller House brought back almost everything, from the majority of the original cast to the canned laughter. With all thirteen episodes released at once, the big question that soon arose was of whether or not the Tanners and Co. would be back for a second season. Here's a look at what we know so far.
Is It Already Renewed
Netflix didn't keep fans on the edge for too long about whether or not a second season of Fuller House was in the works. The streaming service released the news of a renewal via a tweet on the series' Twitter page only six days after the first season hit the web. Reviews weren't exactly 100% positive, but John Stamos' early prediction that there would be much more Fuller House to fill our Netflix queues seems to be coming true. Netflix doesn't release ratings, but it's safe to assume that the numbers for the first week were definitely encouraging. The extended family's zany adventures will have the chance to get even zanier.
How Many Episodes Are Fans Getting
There's no official episode count just yet for Season 2, but Fuller House will likely get the same order of thirteen episodes as it got for Season 1. Most Netflix originals have gotten between ten and thirteen installments per season, and thirteen half-hour episodes seems to have been the perfect amount of throwback fun. Thirteen also happens to be a pretty ideal length for binge-watching, so another season order of the same length could be a win all around.
When Will It Premiere?
Early on, we assumed new episodes were going to premiere in 2017, mostly because Netflix has a penchant for airing its originals around the same time each year. However, recently Netflix announced that Fuller House Season 2 would actually be returning to the schedule on December 9 at 12:01 a.m. PT. That's only 10 months after the first season aired. So, if you liked the show, you will certainly be getting a lot of it in 2016.
Netflix does have plenty of other originals in the works as well. Season 2 began taping in front of a live studio audience in May, and we got some adorable photos from the set when it happened.
Who Is Returning
Fuller House definitely had a full house of characters in its first season, and odds are that the main cast will remain mostly the same in Season 2. Candace Cameron-Bure, Jodie Sweetin, and Andrea Barber will be back as D.J.,Stephanie and Kimmy, and so D.J.'s and Kimmy's kids should be back to subject the ladies to their antics yet again. The old guard of Bob Saget as Danny, John Stamos as Jesse, David Coulier as Joey and Lori Loughlin as Becky didn't have a ton to do in Season 1, but they will almost certainly reprise their roles in Season 2. Given the way that Season 1 ended with D.J., Scott Weigner and John Brotherton are bound to play important parts as Steve and Matt.
Finally, we recently learned that Ashley Liao, who plays Jackson's crush on the series, has been promoted into a regular role on the show. More information here.
D.J. Tanner
D.J. was promoted from eldest daughter of Full House to lead character of Fuller House as she took the place of the parent who recently lost a spouse. Her firefighter husband Tommy Fuller died in the line of duty, leaving D.J. with three kids and a surname perfect for a Full House spinoff. While her children were the most important part of her life in the thirteen episodes, D.J. also had to deal with professional difficulties at her veterinary practice and a romantic complication when the realization that she was ready to date again came with two highly dateable suitors. She was left at the end of Season 1 with a choice to make about which man she wanted in her life as she continued to juggle her bizarre family unit on the homefront.
What Have We Seen So Far?
Fuller House Season 2 just started filming a couple of months ago. In addition, the subscription streaming service is pretty notorious for only putting out a trailer for its originals like a month in advance. On the bright side, John Stamos and some of the other cast members have been sharing some fun footage from the set, including this amusing promotional video:
As soon as we get any more footage for Season 2, we'll be sure to pass it along!
Stephanie Tanner
Stephanie Tanner filled the Uncle Jesse role of Fuller House as she uprooted her life in the music biz to move in with her sister and help raise her nephews. Unlike Uncle Jesse, however, Stephanie's role in her nephews' lives isn't a practice run for having kids of her own in the near future. In one of the most unexpectedly heartbreaking reveals of Fuller House, Stephanie confessed to D.J. that she's physically unable to have children. The tears flowed freely with that revelation, but Stephanie hasn't let her personal troubles stop her from becoming an important role model to the kids of the Tanner-Fuller household. Watching her give up her party-filled life as a DJ for a life of family stability with D.J. was one of the best plots of Season 1, and there's plenty of plot left for her to cover in Season 2. As a sidenote, we also know Uncle Jesse will appear in three episodes.
Kimmy Gibbler
D.J.'s childhood BFF Kimmy Gibbler became Joey 2.0 for Fuller House when she moved in with the two sisters to help with the parenting. Unlike Joey, however, Kimmy brought a daughter of her own into the mix, and that house was just a little bit fuller than how it began with the previous generation, when Ramona became the fourth kid on the homefront. Although Kimmy divorced her philandering Spanish race car driving husband Fernando, there were still many strings attached, and Kimmy had her own fair share of romantic ups and downs in Season 1.
Have Any New Characters Been Announced
Unfortunately, no new characters have yet been announced for Season 2. Given that there are still plenty of characters from the gallery of Full House faces and no end of never-before-seen figures who could make their debut into the family-friendly universe of Fuller House, there should definitely be some folks who weren't around in Season 1 showing up for Season 2. So far, we know that Joey's wife Ginger Gladstone is set to make her big debut.
Plus, who knows? D.J. is apparently quite the hot commodity on the romance front, with former sweetheart Steve still on the line after a couple of decades. Maybe a few more of her former flames will emerge from the woodwork to give D.J.'s current suitors some competition. At the very least, David Lipper deserves to come back as past boyfriend Viper. Who knows what his band Hot Daddy and the Monkey Puppets have been up to since last seen?
Who Did D.J. End Up Picking
D.J. was more than just a mom on Fuller House, and her work as a veterinarian brought her into close quarters with dreamy fellow vet (and former underwear model) Matt. Working with Matt helped D.J. to realize that she was ready to date again for the first time in fifteen years. He listens, shows patience, and actually split his father's veterinary practice despite having no obligation to share. Really, Matt ticked off every box for a respectable guy to take home to meet the family…except he's not Steve. Steve was D.J.'s most unforgettable boyfriend from Full House, and he was last seen on that show, telling D.J. that he loved her at their prom. He wasn't the sharpest tool in the box, but he was always good for D.J. He grew up to be a podiatrist and made his entrance onto Fuller House to let D.J. know that he still loved her.
On the whole, D.J. was in a bit of a pickle by the end of Season 1 when it became clear that she was going to have to choose one of the men. Instead, however, D.J. chose herself and her family as the people who most deserved her attention. D.J.'s romantic future is anybody's guess at this point, and Season 2 will almost certainly see her facing that choice yet again.
What's Going On With Kimmy's Marriage
Kimmy only had one man looking to woo her, but her love life wasn't any less complicated than D.J.'s in Season 1. Her race car driving ex-husband was still in love with Kimmy and wanted to make their family whole again. They rekindled their relationship when sparks began to fly; by the end of the season, they were planning to marry once more. In fact, they had a double wedding set for when Uncle Jesse and Aunt Becky came back to their old stomping grounds to renew their vows. When Kimmy realized that marrying Fernando would have meant leaving the Tanner-Fuller house with Ramona to follow Fernando around on the race car circuit, however, Kimmy realized that her life at home was more important than restarting her marriage on the road. Fernando and Kimmy are still engaged as of the end of Season 1, but Kimmy has no plans to leave D.J., Stephanie, and the rest of the extended family, so Season 2 should be all the more hilarious for having her and Ramona around.
What's Up With Michelle
Fuller House did manage to bring back a whole slew of characters large and small, but the one very big and very notable absence was youngest Tanner daughter Michelle. She was too busy managing her fashion empire in New York City for any heartwarming family romps in San Fransisco, so Full House fans who favored Michelle were out of luck. Fuller House didn't forget Michelle, however, and she did have a presence despite never appearing on screen. One possible upside to Michelle choosing fashion over a family reunion was that her absence left an opening for Kimmy to become an honorary sister in every way. Michelle wasn't around, but Fuller House didn't feel any less full.
Could The Olsen Twins Appear In Season 2
Michelle wasn't left out of Full House just so that Kimmy could be the third woman of the trifecta of adults in the house. Instead, the Olsen twins chose to focus on their real-life fashion careers in New York City. They were plenty busy cultivating their careers behind-the-scenes instead of in front of the cameras, and Ashley Olsen even went so far as to say that she doesn't intend to return to acting at all. She hadn't acted since she was a teenager and didn't feel comfortable to returning now. Mary-Kate might have been willing, but the timing kept her from signing on without her sister. Despite the admittedly hilarious jokes at their expense that broke the fourth wall in a big way, the Olsen twins are evidently welcome back in the future of Fuller House.
Apparently, John Stamos has even pursued a meeting with Ashley Olsen to see if there was any chance that she could be convinced to come back as Michelle. There's always the possibility that one of the twins could return for at least a cameo. It would be rather strange to only see one Olsen name in the credits, but it's not like the show would require a set of interchangeable twenty-something twins the same way that it did for when the Olsens were toddlers. On the whole, though, odds aren't great for Michelle to come back.
Where Else Can We See The Actors
Without even an official release date for Season 2, it's safe to say that it's going to be a while before more of the exploits of the extended Tanner-Fuller family go up on Netflix. Fortunately, a few of the actors can be seen in other fun projects in the meantime. John Stamos – who was recently the star of an epic April Fools' Day prank on Netflix – is currently starring on the sitcom Grandfathered on Fox. Candance Cameron-Bure is a co-host of The View on ABC, and Jodie Sweetin can be seen dancing her heart out as a contestant on Season 22 of Dancing With the Stars on ABC. Lori Loughlin has spent the last couple of years as a regular on Hallmark Channel's When Calls the Heart.
Stay tuned to CinemaBlend for updates about what we know so far about Season 2 of Fuller House. In the meantime, feel free to re-watch Season 1 on Netflix (opens in new tab) until every single joke and laugh track is memorized. There's just no such thing as too much of the Tanner family.