Archer Coming Back For A Second Season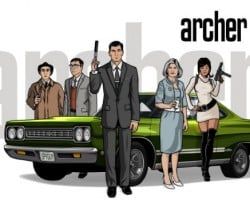 FX may be finally figuring out how to make a successful comedy. Since the premiere of It's Always Sunny in Philadelphia in 2005, the network has never had a comedy series go to a second season until The League succeeded late last year. Now their latest attempt, the animated Archer, has just scored a season two renewal, reports The Hollywood Reporter. FX has ordered an additional 12 episodes, which is two more than the first season scored.
The series comes from the mind of Adam Reed, who's most known for the animated series Frisky Dingo on Cartoon Network's Adult Swim. Archer tells the story of a hapless spy agency and its "star" spy, Sterling Archer. It has a lot of the same quirks and style that Reed became known for on Adult Swim, but has grown into a modest hit for the network.
Renowned for the quality of their drama division for years now, it's about time FX figured out the comedy side of their branding. With three successful comedies on their schedule now, it should be easier for developers to get an idea of what kind of comedy seems to be working on the network. Plus, it's always encouraging when more adult animated fare can work outside of FOX Sundays and CartoonNetwork/Adult Swim.
Your Daily Blend of Entertainment News
Your Daily Blend of Entertainment News
Thank you for signing up to CinemaBlend. You will receive a verification email shortly.
There was a problem. Please refresh the page and try again.