Archer Season 4 Review: FX's Comedy Is Older But Just As Funny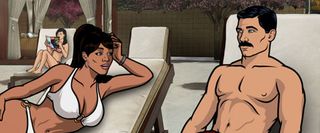 Somewhat reigned in by the almighty Malory Archer (Jessica Walter), the International Secret Intelligence Service (ISIS) crew in Season 4 is still as filled with wild hijinks and as many one-liners that take the humor just a little too far as ever. However, with a different starting point and new adventures, including the teased and promised Bob's Burgers homage—which is fitting since H. Jon Benjamin provides the vocal leads for both Sterling Archer and Bob—the season kicks off with a bizarre parody and just continues to get weirder from there on out.
In the new season, Archer is a little less Archer-oriented than usual, with subplots and backstories focusing on some of the other ISIS members and the people closer to the crew. In some ways, this makes the series less smutty than it normally is. Better put, Archer is more carefully smutty than usual, and it makes the truly horrifying but funny punchlines that much more impactful.
After catching three seasons of Archer, I didn't think anything could possibly surprise me about Sterling Archer and co. While the characters, voiced by some of the best voice talent on television, including Aisha Tyler, Judy Greer, Chris Parnell, Adam Reed, and Amber Nash, haven't changed much, and are still boozing and making the same crass or mean-spirited jokes at one another's expense, the writing is definitely improving. The writers are working on scaling back on the humor 5% in order to improve the plot and the momentum of the series by 10 or 15%, or maybe they've just settled into a rhythm. Whatever they're doing, it works.
Mostly the series is still about ridiculous office shenanigans and fighting against the goofy, often-Russian enemies of the ISIS, but as usual, Season 4 also offers a slew of new characters and guest stars. It's hard to tell in early episodes if FX's comedy series will be able to top such high-quality past guest voices as Patrick Warburton, as well as high-profile guest stars including Bryan Cranston and Burt Reynolds. Regardless, by now Archer is prominent enough to attract some big talent, and early on, that talent seems to be used appropriately, with FX's Timothy Olyphant (Justified) stepping in to an early role and making the most of it. Additionally, Ron Liebman has joined the cast in a more prominent role, one that leaves Sterling exasperated with his mother and a bit out-of-sorts.
One of the greatest qualities most animated programming possesses is an ability for audiences to be able to jump right in to any episode and capably understand the characters, their motivations, and whatever wild plotline is being explored that week. Like much animated fodder, Archer has this quality, but it's much more enriching to tune in from week to week. Honestly, if you've never given the series a shot, I'd really suggest going ahead and jumping in when Season 4 premieres on FX on Thursday, January 17. At its best, Archer is a fast-paced adventure story that also manages to look at the banalities of working with the same group of people day in and day out, all while making brilliant observations about the hang-ups, insecurities, and generally personalities of its characters. The series is only getting better and better, so why not give it a shot?
Archer premieres Thursday, January 17 at 10 p.m. ET.
Your Daily Blend of Entertainment News
Reality TV fan with a pinch of Disney fairy dust thrown in. Theme park junkie. If you've created a rom-com I've probably watched it.
Your Daily Blend of Entertainment News
Thank you for signing up to CinemaBlend. You will receive a verification email shortly.
There was a problem. Please refresh the page and try again.