New Archie Comics Drama Is Moving Forward, Get The Details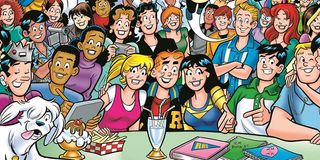 Live-action versions of comic book characters are all the rage these days. Our television and movie screens are filled with a variety of superheroes and villains from those comics, and the tide likely won't be stopping anytime soon. Now, one unexpected comic is closer to getting the live action treatment: Archie.
According to The Wrap, TV super-producer Greg Berlanti has just gotten the go ahead from The CW to producer a pilot for his show Riverdale. The youth-skewing network is probably the perfect broadcast channel for such a show, and it looks like Berlanti and crew will be putting a new spin on Archie Comics ideas.
Riverdale will be set in the modern day, and is based on the comics, likely with many of those classic characters showing up on screen. The difference is that, instead of featuring sweet but sometimes misguided characters in an idyllic setting, it will explore the weirdness of small town life and all the hidden troubles hiding underneath the picture-perfect façade.
The Archie Comics series has already enjoyed a long life. The character's first appearance was in Pep Comics #22 in December, 1941. Just to catch you up, the original premise followed Archie Andrews and his friends at Riverdale High School (Betty Cooper, Veronica Lodge, Reggie Mantle and Jughead Jones) as they traversed the trials and victories of teen life and high school politics. Well, politics is too strong a word. It was really about Archie not being able to decide if he wanted to date sweet Betty long-term, or hang out with sorta bad girl Veronica to keep some troublesome spice in his small town life.
Those comics were popular enough to inspire several cartoon shows, starting in 1968 with The Archie Show. That only lasted one season, but other shows followed which were set in the same world, including Sabrina the Teenage Witch, Josie and the Pussycats and even Josie and the Pussycats in Outer Space. Archie live-action stories are not new, though, in the early '70s a special was produced for TV and in 1990 NBC produced a special where Archie goes to his high school reunion and reunites with his old friends. There was also a Josie and the Pussycats big screen adaptation in 2001, but the most popular of the live-action Archie series would be Sabrina the Teenage Witch; it aired on ABC from 1996 through 2003.
In 2013, Afterlife with Archie took the series in a whole new direction. In the alternate Archie reality, the town of Riverdale starts the zombie apocalypse when Reggie accidentally runs over Jughead's dog. Jughead then asks Sabrina to bring him back to life, which she does, but the dog quickly becomes zombified, bites Jughead and sets off the horror story.
There's no reason right how to think that Riverdale will go that far with its storytelling, but it certainly seems as if they're setting us up for some pretty intense happenings in Archie land.
Bachelor Nation, Gilmore Girl; will Vulcan nerve pinch pretty much anyone if prompted with cheese...Yes, even Jamie Fraser.
Your Daily Blend of Entertainment News
Thank you for signing up to CinemaBlend. You will receive a verification email shortly.
There was a problem. Please refresh the page and try again.