Arrested Development Season 4 Watch: Episode 11 - A New Attitude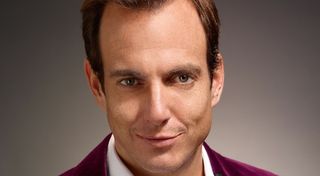 Netflix has released Season 4 of Arrested Development in its entirety, which means we'll be binge-watching the series' revival and sharing our reactions with you over the next couple of days. The recap below contains spoilers from Episode 11 - "A New Attitude." Read no further if you haven't seen the episode yet!
"Now the story of a family whose future was abruptly cancelled and the one son who had no choice but to keep himself together. It's Gob's Arrested Development."
After 11 full episodes of the fourth Arrested Development season, I can finally declare this experiment a disappointment. That's not to say that I'm not marginally enjoying this reunion with the Bluth clan. But the fractured format of single-character episodes slowly constructing a linear narrative is occasionally rewarding but exhausting. This inevitably comes from binge watching a show that always loaded episodes with numerous head-spinning gags. But the exercise of Season 4 feels a lot like Gob's "roofie circle" from Episode 7. I'm not ready to check into a Mexican hospital with "sifilus," but I'm wondering if the AD binge is worth it, even as storylines continue snapping into place in the second Gob-centric episode, "A New Attitude."
"I want to hear you say the words, 'I'm not seeing Julie Bowen.'"
The previous episode, Lucille's "Queen B", answered several questions that traced back to the season three finale, and the revelations keep coming in "Attitude" -- which feels like the closest thing to a standalone episode from the show's first three seasons than anything I've seen in episodes 1-10.
This is the second Gob-centric episode this season, and benefits immensely from the extended return of our beloved idiot's equally delusional and self-centered rival, Tony Wonder (Ben Stiller). Because Gob believes it was Tony who sabotaged his elaborate wedding-day "trick" by locking him in his own cave (using a cross, and not the letter "T," as Gob assumes), he goes to extreme lengths to get Tony back. This leads to a lengthy – and at time, insensitive – series of gay jokes that has Gob "pretending" to be attracted to his magician rival in an effort to enact an elaborate vendetta … only to lead to an actual friendship. Same.
"The Gothic Castle?"
Gob's escalating plan, which routinely spins out of control, allows "Attitude" to call back characters who have been connected to Gob all season. Ann Veal appears at the Cinco de Cuatro festival, and plays a significant part in pranking both Gob and Tony. George Michael is guilted into helping his uncle pull a trick in a gay bar, and also reveals (possibly to the wrong ears) that his Fakeblock software is taking off. Sally Sitwell, we learn, is scheming with Tony Wonder. (Appropriate because she's played by Stiller's real-life wife, Christine Taylor). And Michael finally confronts his brother on what he believes is a relationship with Ron Howard's daughter, Rebel … only to realize that Gob's far too busy pretending to be gay to have an actual, heterosexual relationship with a beautiful redhead.
This, of course, leads to one of the most elaborate "Boyfights" between exploited brothers Michael and Gob, starting in a My Little Ballroom and detouring, briefly, into a knife shop where Gene Parmesan is inquiring about weaponry.
"In the act of having fake gay sex, you're going to take off the mask to reveal that you're having real, straight sex, destroying his career. And it's all going to be captured on that camera right there!"
The old Arrested Development magic appears to be returning now that this experimental fourth season is finished explaining itself over and over, episode after episode. It took a long time for the audience to familiarize itself with the running jokes of this season (the Simon and Garfunkle musical cue for Gob really makes me laugh), and the shows can focus on being funny … which they weren't for the first half of this season.
This episode ends on a callback to one of the season's earliest "jokes," a conversation between Michael and Gob that made absolutely no sense until now. That, in a nutshell, is the biggest problem I've had with this season. The "Previously on Arrested Development" segment is a necessary flashback. But it's a deep, deep call back that you might only recall – in detail – if you have been binge wtching in a 48-hour period. There likely will be a lot of closure to the season in the last four episodes (particularly with the bombshell revealed in the last shot of this episode). Is it all worth it? I'm afraid it's still too soon to tell … which is weird to say by episode 11 of a 15-ep season.
The Rest of the Developments
The cross that locked Gob in his cave means Ann (or someone in the Veal family) probably locked Gob in his cave, right?
This episode marks the return of George Michael, who has been as absent as George Sr., Buster, Lindsay and Maeby this season. Though the revelation in the final minute suggests George Michael will be a key figure in the final episodes.
Speaking of, Fakeblock apparently is taking off.
There's a magician's magazine called Woops?
And when did Gob earn the nickname, "The Fundamentalist Christian Magician?"
Michael starts tearing up the contracts as he tells family members they are "out of the movie." Didn't he spend a LOT of time securing those signatures?
Ann Veal has a son. And his father … is Tony Wonder! But she doesn't move during sex. Which isn't surprising.
And finally, David Geffen and Neil Patrick Harris are just a few of the high-powered Hollywood types who pretend to be gay.
Read more Arrested Development recaps here.
Your Daily Blend of Entertainment News
Sean O'Connell is a journalist and CinemaBlend's Managing Editor. He's frequently found on Twitter at @Sean_OConnell. ReelBlend cohost. A movie junkie who's Infatuated with comic-book films. Helped get the Snyder Cut released, then wrote a book about it.
Your Daily Blend of Entertainment News
Thank you for signing up to CinemaBlend. You will receive a verification email shortly.
There was a problem. Please refresh the page and try again.