Arrow DCU Tie-Ins And Easter Eggs: Season 2, Episode 2 - Identity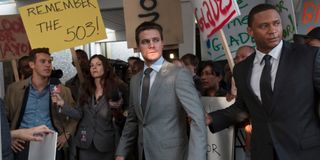 While there wasn't a nod as exciting as "City of Heroes'" dropping news of Central City's particle accelerator being ready by Christmas, the second episode of Arrow's second season still had several DC Comics references and featured a few new comic book based characters. Oh, and "Identity" was also a great episode of action-adventure television, not simply relying on all these references (major or minor) for some kind of 'cool' recognition factor but effectively working them into the narrative. They all matter, something another show (cough S.H.I.E.L.D. cough) could learn a lot from.
Sadly, there was no sight of Black Canary this week (don't worry, we'll be seeing plenty of her in Episode 3, "Broken Dolls") even though she was alluded to a couple of time by Roy. And speaking of Mr. Harper, we also got to see more of his evolution into Red Arrow (including, you know, having a small red arrow) by becoming Oliver's eyes and ears in the Glades. That's kind of like being a sidekick, right? I don't think he'll ever take up the moniker of Speedy though, since that's already Thea's nickname and it might confuse non-comic reading fans once the really fast guy is introduced.
On top of the slew of DCU characters that returned to (or were mentioned in) Arrow last night, like stalwarts Slade Wilson and Shado as well as frequent Starling City troublemakers Deadshot and China White, "Identity" also marked the first appearance of a few big comic-book names. In her efforts to finally defeat the vigilante, the one she called the 'Emerald Archer' (we're getting closer and closer to Green Arrow, at least that's one of his popular nicknames), Kelly Hu's character enlisted the help of Bronze Tiger. Yep, that's the dude with the Freddy Krueger-Wolverine action on his hands played by Michael Jai White. This isn't Jai White's first foray into the comic-book world, having played Spawn in the feature film adaptation, and he's another cast-member who can handle himself only making the fight scenes all the more compelling. Here's a chance to rematch his violent introduction in "Identity."
In addition to Bronze Tiger (who is still nameless on the show), another new character announced at during Arrow's panel at Comic-Con was Sebastian Blood and we got our first taste of Kevin Alejandro's Alderman last night. It looks like the government official based on DC's Brother Blood is going to be a major thorn in CEO Oliver's side but we haven't seen how this may (or may not) extend into a showdown between their alter-egos. I bet it will. Another subtle tie-in to the DCU was the fact that our favorite news team (the one in charge of handling so much of the series' exposition) is Channel 52, a number particularly special for the comic book company. Oh, and the newscaster happens to be Bethany Snow. No wonder they are pushing the Blood agenda.
Arrow returns with Episode 3, "Broken Dolls," next Wednesday at 8 p.m. ET on The CW. Created by Marc Guggenheim, Andrew Kreisberg and Greg Berlanti, the DC Comics inspired series stars Stephen Amell, Katie Cassidy, David Ramsey, Emily Bett Rickards, Willa Holland, Colton Haynes, Manu Bennett, Paul Blackthorne and Susanna Thompson.
Your Daily Blend of Entertainment News
Thank you for signing up to CinemaBlend. You will receive a verification email shortly.
There was a problem. Please refresh the page and try again.