Arrow Team Hopes To Strike Another Bullseye At The CW With The Flash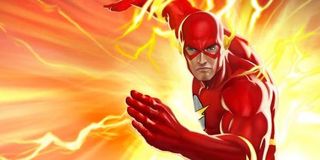 Outside of the Dark Knight trilogy and the recent Man of Steel, Warner Bros. hasn't had as much big screen success with their stable of DC comic book characters as, say, DC's main comic book competitor, Marvel. But where Warners has succeeded is on the small screen, with series like Smallville and Arrow, which will start its second season in October. The CW is hoping to continue that success with Flash.
According to Deadline, the CW is looking to Arrow co-creators Greg Berlanti and Andrew Kreisberg to fast-track a drama based on the seminal comic book character, with assistance from Arrow pilot director David Nutter, who will also direct the pilot for Flash. Berlanti and Kreisberg will co-write the pilot with DC Entertainment's Geoff Johns. Marc Guggenheim, who also developed Arrow, will not be involved with Flash but will instead concentrate on Arrow.
For those familiar with the comic book character, the series will serve as the origin story for Barry Allen, the second incarnation of the character known as the Flash. Apparently, Allen will be introduced as a recurring character on Arrow, and will then be spun off into his own series. "Barry Allen's story always has been a favorite of mine," Berlanti told Deadline, separately. "As well as of Andrew Kreisberg and Geoff Johns. "We think it fits well both in terms of (Arrow) and (as a stand-alone series)."
Casting for the role of Allen will begin this week, As Berlanti revealed that the character will begin to show up on Arrow around episode 8 or 9 and also said that it is believed that Flash is a better fit for a spinoff show, which may be why the CW decided to put it's Wonder Woman series, Amazon, on the back burner. "Amazon is on pause (as) the script is not exactly what we wanted, and with an iconic character like Wonder Woman, we have to get it right," confirmed the CW's Mark Pedowitz.
Of course, it could be argued that the Flash is also an "iconic character" that should be done right, since the writer Gardner Fox and artist Harry Lampert originally introduced the character (in his original incarnation of Jay Garrick) in 1940. Barry Allen has already been featured in a 1990 TV show, CBS' The Flash, which struggled to find an audience and was canceled after one season. In contrast, the 1970s series Wonder Woman lasted 3 seasons on both ABC and CBS, though attempts to revive the show failed with a failed 2011 pilot from David E. Kelley, and now Amazon.
What exactly the Flash series means for the rumored film incarnation is unknown, as The Hollywood Reporter mentioned earlier this month that a Flash movie might arrive in 2016. Berlanti and Guggenheim were set to write a Flash movie years ago, with word that Berlanti might even direct it, but since then news about the movie has been quiet. For now, Warners seems content to try its Batman/Superman movie, seemingly as a cornerstone for an oft-rumored Justice League movie.
For all its success on television, it's frustrating that Warners hasn't been able to figure out how to get its stable of comic book characters onto the big screen. After the calamity of Green Lantern, Warners seems to be extremely cautious about how it executes its DC characters, and, while it's not impossible for its TV characters to eventually show up in movies, so far Warners has tried to keep its TV universe and its film universe separate. Marvel has decidedly done the opposite with its upcoming Agents of S.H.I.E.L.D., which won't feature Iron Man or Captain America, but has included Agent Coulson (Clark Gregg), who has been in almost every movie in Marvel's Cinematic Phase One. I'm certainly curious about the Flash TV show, but I'm more excited about Agents of S.H.I.E.L.D., knowing the series is at least tied to Marvel's Cinematic Universe.
Your Daily Blend of Entertainment News
Thank you for signing up to CinemaBlend. You will receive a verification email shortly.
There was a problem. Please refresh the page and try again.