Arrow DCU Tie-Ins And Easter Eggs: Season 2, Episode 7 - State v. Queen PLUS The Scientist's Flash-y Preview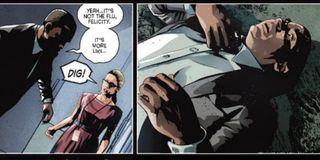 After the mission to Moscow, Arrow is back in Starling City for "State v. Queen" to face off against some new characters from the DCU as well as some returning favorites. That seems to be a successful formula with "Keep Your Enemies Closer" introducing A.R.G.U.S. Agent Amanda Waller as well as bringing Floyd 'Deadshot' Lawton back for the action packed tangent that saw the entire 'Green Team' go overseas to rescue Lyla with the help of KGBeast. The name-dropping never ends! But it also rarely gets in the way of the storytelling or character development, it actually manages to make each installment more exciting. For example, with only a simple mention, we know that both H.I.V.E. and The Secret Six are out there lurking. If they haven't been amalgamated. But that's a discussion for another day with this week offering more than enough easter eggs to talk about, starting with the, uh, final appearance of one of Oliver's most familiar foes.
"State v. Queen" marks the third encounter between Arrow and Seth Gabel's Count Vertigo, the first being "Vertigo" (S1E12) and the second "Unfinished Business" (S1E19), and once again he comes off a little like a low-rent Joker. Not saying that I don't enjoy Gabel's over-the-top performance or the relationship between the hero and villain but, as usual, the influence of Nolan's Batman is undeniable. I mean, just compare the video the Count makes and sends across the Starling City airwaves (by bouncing off S.T.A.R. Labs' satellites in Markovia) and the one that Joker makes in The Dark Knight. At least The CW knows enough not to use the actual Joker and wisely picks from the lesser known villains in the DCU and Batman's Rogues Gallery specifically. It allows them to craft their own universe more easily and I especially enjoyed the nod to Arrow's third episode of the season, "Broken Dolls," by showing Vertigo release The Dollmaker during his 'V-shaped escape' from prison.
The Count v. Arrow thread of "State v. Queen" worked really well because it wrestled with Oliver's second season decision not to murder anyone anymore and, instead of finding an easy way out, had the hero make the tough choice. And good old Channel 52 was quick to make sure that all of Starling City knew that the vigilante had killed again. Maybe that will factor into the decision to finally don the traditional domino mask? It is set to happen very soon. Or it might have to do even more with the fact that an increasing number of people know, or are starting to figure out, that Oliver Queen and Arrow are the same person. After all, his biggest adversary to date, Malcolm Merlyn, decided to to come back to life and provide Moira will her get out of jail free card. Why would he resurrect to help out the woman who effectively ruined his nefarious plan? They share a daughter together. Whew, good thing Thea and Tommy never happened. Still a real Luke and Leia situation. Oh, how did the Black Archer pull off the trick? Well, like 'Tahiti,' Nanda Parbat is a magical place. He could have used the Lazarus Pit or just his training in theatricality.
The flashbacks this week were also quite revealing with Dr. Ivo continuing his quest to find the WWII Japanese Sub. Okay, first he and the crew of the Amazo are using Oliver to find the deformed skeletons and his friends, then they're going to find the super serum on the sub. Too bad for him, and especially the Captain, a hooded Shado and badly burned Slade come to the rescue. Not only that, Ollie is able to grab Sara and learn about the aforementioned serum which just might heal their injured comrade. Or turn him into a superhuman bad guy. We'll see. Like I said before, I expect all of our heroes have had a taste of the stuff, including Arrow and Canary. I have no doubt that Sebastian 'Brother' Blood has survived a dose, something that can only be achieved by 'the strong,' like this Cyrus fellow. I wonder if his last name is Gold? "Solomon Grundy, Born on a Monday, Christened on Tuesday, Married on Wednesday, Took ill on Thursday, Grew worse on Friday, Died on Saturday..."
On top of Felicity mentioning S.T.A.R. Labs during the hunt for Count Vertigo, there was also another 'news' nod to the new particle accelerator about to open in Central City. But this time, references to the upcoming hero have become really common on Arrow, it carries a little more weight because Flash's first appearance is imminent. Well, it's technically Barry Allen's first appearance. Take a look.
Arrow returns with Episode 8, "The Scientist," Wednesday, December 4 at 8 p.m. ET on The CW. Created by Marc Guggenheim, Andrew Kreisberg and Greg Berlanti, the DC Comics inspired series stars Stephen Amell, Katie Cassidy, David Ramsey, Emily Bett Rickards, Willa Holland, Colton Haynes, Manu Bennett, Paul Blackthorne and Susanna Thompson.
Your Daily Blend of Entertainment News