Arrow Adds An al Ghul And Dons A Domino Mask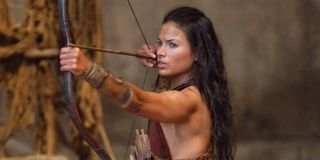 Those who have been paying attention to the name-drops on Arrow know that it was only a matter of time before one or more of the al Ghuls, a family intimately and often involved in fellow DC superhero Bruce Wayne/Batman's life, showed up in Starling City. Well, The CW's superhero series (a descriptor that soon won't be descriptive enough with both Flash and Hourman on the way) has recently cast an al Ghul. Not Ra's. Nope, not Talia either. Yes, there are more.
According to TVGuide, the lesser known lovechild of the "League of Assassins" leader, Nyssa al Ghul (Nyssa Raatko, technically) will be the 'daughter' coming to confront and re-cage Caity Lotz' Canary. And to play the part, the Arrow casting team once again turned to recently wrapped Starz' Spartacus, bringing in Katrina Law to join former (or, I guess current) co-workers Manu Bennett (Slade aka Deathsroke) and Cynthia Addai-Robinson (A.R.G.U.S. Agent Amanda Waller) on the super action-adventure.
Law is a great choice to play the League of Assassins member and half-sister of Talia, having both the look as well as the physical chops. It's not a coincidence that Arrow keeps turning to Spartacus for cast-members because the latter was full of CW-level beautiful actors who could also kick some ass. Why isn't she Talia? Well, I don't want to go into the popular theory because some of you may still want the twist (if one even exists) revealed in real time while actually watching the show. That can be fun. Law's Nyssa will make her first appearance during Season 2, Episode 13 which is titled "Heir to the Demon."
Before Arrow reaches its thirteenth installment, however, another major development will happen to the (super)hero Okay, maybe not 'major' but on December 11, during "Three Ghosts," Oliver Queen's costume will be getting a new, albeit classic, upgrade. Take a look, courtesy insideTV...
I'm not going to lie, I kind of dug the whole green paint look they had going on but I suppose this addition will help quell the comments about why Oliver's not being recognized by the people he knows. Of course, I would counter all such complaints by saying that the disguise is just a comic-book conceit you have to run with if you want to read them or watch the inevitable adaptations. Superman hides by simply throwing on a suit, some glasses and hair gel. Deal with it. Costume designer Maya Mani made roughly 50 mask options before executive producers Andrew Kreisberg, Marc Guggenheim and Greg Berlanti settled on the one shown above and below. Kriesberg added that "even Stephen was like, 'This is the right one.'" What do you think?
On top of the 'practical' reason for turning to the traditional domino mask Kreisberg also adds story and character based reasons, explaining how Ollie "doesn't just put on a mask. It's actually a big plot point in an episode, and there really is a story behind, not only the need for the mask but also who provides him with it."And going by the mask's debut date, right smack in the middle of the Barry Allen (not the Flash) arc, I'd wager that the two have something to do with each other. I'd also bet that Felicity is the one to 'provide it.' Too much gambling on my part, let's get back to what Kreisberg confirmed about the costume change and how it also fits in thematically with Oliver's evolution as a crime-fighter.
Arrow returns with Episode 7, "State v. Queen," tonight at 8 p.m. ET on The CW. Created by Marc Guggenheim, Andrew Kreisberg and Greg Berlanti, the DC Comics inspired series stars Stephen Amell, Katie Cassidy, David Ramsey, Emily Bett Rickards, Willa Holland, Colton Haynes, Manu Bennett, Paul Blackthorne and Susanna Thompson.
Your Daily Blend of Entertainment News