New Arrow And The Flash Crossover Highlights The Boomerang Killer And Much More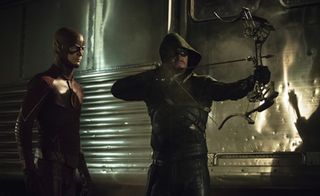 Oliver Queen may be teaming up with Barry Allen on December 2, but the superhero team-up fun won't stop there. A day after giving fans their first look of the episode "Flash vs. Arrow," the CW has released a second batch of images from the second half of the crossover between Arrow and The Flash, titled "The Brave and the Bold," which will air the following day. Featuring the mysterious boomerang killer and another reunion between Teams Arrow and Flash, this episode will conclude the crossover between the two heroes, although there's always the possibility of the writers teaming them up again at some point.
In "Flash vs. Arrow," Oliver, Diggle and Felicity go to Central City to investigate a mysterious boomerang left behind. Our boomerang killer is none other than Digger Harkness, known in the comics as Captain Boomerang. Despite being a Flash villain, he debuted on last night's episode of Arrow, murdering a man with one of his trademark projectile weapons. In this universe, Harkness is a former A.R.G.U.S. operative who is targeting Lyla Michaels, Diggle's significant other who is leading the A.R.G.U.S. team that's hunting Harkness in Starling City.
Despite Oliver and Barry thwarting his attempt on Lyla's life, Digger will escape and plant five bombs around the city, leaving it up to the two vigilantes to find and disarm the explosive devices. While they dealt with a rough patch in the previous episode, it looks like Barry and Oliver will be on good terms by now and ready to work together.
In the comics, Digger has an arsenal of "special" boomerangs that he uses against The Flash, but it remains to be seen whether his TV incarnation will have similarly unique weapons at his disposal. After all, Barry can easily catch a regular boomerang, so Digger will need the necessary edge to defeat the Scarlet Speedster. As we can see in the above picture, he's obviously a skilled enough fighter to take on Oliver, but what's stopping Barry from running over and subduing him in several milliseconds? The boomerang man must have something up his sleeve.
Diggle and Felcitiy hung out at S.T.A.R. Labs, so it's only appropriate that Cisco and Caitlin get to hang out in the Arrowcave. Like in "Flash vs. Arrow," the support teams will be helping the heroes stop the villain, and with Team Flash's scientific expertise, disarming Digger's bombs should prove easy.
Check out the image gallery below for more images from the episode. You can catch "The Brave and the Bold" on The CW on Wednesday, December 3 at 9 PM EST.
Photo Credit @ CW
Image 1 of 13
Image 2 of 13
Image 3 of 13
Image 4 of 13
Image 5 of 13
Image 6 of 13
Image 7 of 13
Image 8 of 13
Image 9 of 13
Image 10 of 13
Image 11 of 13
Image 12 of 13
Image 13 of 13
Connoisseur of Marvel, DC, Star Wars, John Wick, MonsterVerse and Doctor Who lore. He's aware he looks like Harry Potter and Clark Kent.
Your Daily Blend of Entertainment News
Thank you for signing up to CinemaBlend. You will receive a verification email shortly.
There was a problem. Please refresh the page and try again.