Will Arrow Sport His Iconic Look After All?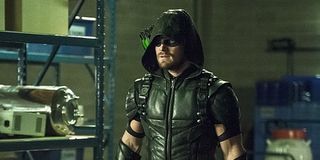 For a show about DC's Green Arrow, Arrow has most certainly taken its sweet time getting Oliver Queen to a place where true Emerald Archer fans would recognize him. Earlier seasons of the show – while excellent television – skirted many key elements to Oliver's characterization that have only recently begun to rear their heads – such as his whimsical sense of humor, Star City, and even the title of "Green Arrow." Now it seems that The CW character may soon adopt one of the most iconic elements of his source material: a goatee.
On his Twitter page, Stephen Amell opened up a series of tweets concerning a certain element of Green Arrow's character and how it could be incorporated into the show:
The tweets indicate that a few months back, Amell mentioned that something would never occur on the series, despite fan speculation to the contrary. Amell now seems to be eating his words, as he goes on to indicate that whatever he vehemently denied will in fact soon be coming to fruition. This seems to line up perfectly with a statement made by the actor a few months back – which we dutifully reported on – stating that Oliver Queen's iconic goatee (although it could be argued that it's a Van Dyke) would never show up on Arrow. His recent tweets say that the word "never" should be avoided, so that has to be what he's talking about, right?
However, it still remains somewhat ambiguous, and numerous aspects of the character have yet to be brought onto the small screen. For example, instead of the goatee, it could possibly end up being Oliver Queen's Robin Hood-esque hat that is brought onto the show, but he didn't denounce the very idea of the hat in tweet form. Don't worry; we're here to provide you with even more evidence that it's the facial hair. Check out this tweet that the actor sent out just before the others:
So whatever is being added to the character is something directly attached to Stephen Amell himself. Unless he decided to sew a hat atop his head, increased scruff seems to be the more likely candidate. Facial hair has been an omnipresent aspect of the Arrow ever since the show premiered; it acted as one of the important visual cues to differentiate "seasoned Oliver" from the present with "rookie Oliver" from the past. Now that Oliver has become a shorthaired, bearded killer in Arrow's flashbacks, the show may bring in the goatee to add extra emphasis to his evolution as a character.
At the end of the day, this is all speculation based off of some tweets. If indeed Oliver Queen's goatee is coming to Arrow, we will just have to wait and see when and where. Arrow airs every Wednesday at 8 PM on The CW.
Your Daily Blend of Entertainment News
Originally from Connecticut, Conner grew up in San Diego and graduated from Chapman University in 2014. He now lives in Los Angeles working in and around the entertainment industry and can mostly be found binging horror movies and chugging coffee.