Stephen Amell: 10 Things You Never Knew About The Arrow Star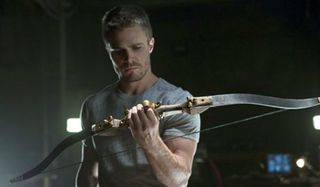 Building a shared superhero universe upon the shoulders of one actor comes as no easy feat. For every Robert Downey Jr. and Iron Man, we get a Ryan Reynolds-fronted Green Lantern that could effectively stop a universe dead in its tracks. Stephen Amell had the unenviable task of bringing relatively unknown superhero Oliver Queen to the small screen on The CW's Arrow back in 2012, and he pretty much knocked it out of the park – or hit a bull's eye, as that seems more appropriate.
In no time at all, Amell has gone from relative obscurity to a household name, with no sign of slowing down. Now that Arrow has returned to it's Wednesday night timeslot on The CW, here are a few things you should already know about the man behind The Emerald Archer.
He Got His First Acting Job In The Audience of Jimmy Kimmel Live
Stephen Amell appeared on Jimmy Kimmel Live for the first time earlier this year, in a way it felt like his career coming full circle. Despite becoming a full-blown celebrity in recent years, Amell struggled – as many actors do – throughout his early years in Hollywood. During his interview with Kimmel, Amell admitted that he once been in Kimmel's audience and was not the greatest audience member. Despite repeated warnings not to use his phone during the show, he found himself in a stare-down with a security guard. The career-oriented individual that he is, Amell ultimately opted to leave the show early – forgoing his chance to see Flo Rida perform – and accept the call for his first American job: the killer on an episode of CSI: Miami. We think he made the right call.
He Used To Be A Spinning Instructor
We all have to start somewhere. For Stephen Amell, prior to becoming a modern TV icon, that entailed teaching spinning classes to the fitness conscious folks of Los Angeles as a means of supporting himself while he broke into the acting world. Art has a way of imitating life, as one of Amell's first ever acting gigs involved playing a spinning instructor on the series Queer as Folk. This came at a time when the actor found himself very discouraged in Hollywood; he told his agent that if he could not get a role as a spinning instructor – despite actually being one in real life – he would quit acting. Needless to say he ended up getting the part. Amell also revealed that to this very day, people still post on his Facebook page or to his Twitter account that they took classes taught by him years ago and miss him as a spinning instructor.
He's Loves Words, But Is Bad At Scrabble
Stephen Amell has vocally expressed how much he loves words. He reads about vocabulary, and has worked with several of his Arrow co-stars to create new words for philanthropic purposes – most notably "sinceriously." However, such a passion for language apparently does not translate to skill at the popular word-based board game Scrabble. Prior to donning Oliver Queen's green hood, Amell played villainous werewolf Brady on another popular television show on The CW: The Vampire Diaries. During this stint, Amell decided to kill time by playing challenging actress Candice Accola to a game. She beat him – badly. Amell admits that there is a strategy to winning Scrabble that goes beyond merely having a large vocabulary to draw from, and that he still harbors at least a little resentment over the loss. This has us wondering whether or not we should consider "sinceriously" a viable Scrabble move or not.
Super Heroism Runs In The Family
It's probably something that's been at the back of your mind ever since the first season of The Flash: don't Oliver Queen and Ronnie Raymond look eerily similar? If you're new to The CW – and don't bother to read the opening credits of the show – you would likely fail to realize that Stephen Amell is in fact cousins with Robbie Amell. Much like Stephen, Robbie had prior experience on The CW before settling into his role as a DC hero when he starred on the short-lived series The Tomorrow People. Despite sharing a superhero universe on the same network, the two cousins have shared very little screen time with one another – most of which came when Oliver and Ronnie helped Barry Allen (Grant Gustin) take on Reverse Flash (Tom Cavanagh). Although Robbie Amell's time as Firestorm seems to be coming to a close, the actor recently made headlines when he called for a gritty retelling of the popular neo-Batman story Batman Beyond as a dark, character-driven film – in which he would quite obviously like to play Terry McGinnis.
He's An Avid Wrestling Fan
A passionate Hulk Hogan fan ever since the 1990's, Amell's love of wrestling persists to this day. He has maintained a longstanding feud with professional WWE athlete Stardust over the last year; the two repeatedly mock and call each other out – both in persona and on social media – with their antagonism coming to a head at this year's WWE Summerslam. Teaming up with pro wrestler Neville, Amell took to the ring and challenged Stardust – as well as King Barrett – to a knockdown drag out melee. The Arrow star's stunt training kicked into high gear as he convincingly pulled off some truly impressive moves, and the match ended with Amell delivering an aerial maneuver that definitively put Stardust in his place. The two have had their differences, but earlier this month they put them aside to raise almost $300,000 for Emily's House charity in Toronto, proving that rivalries don't always have to be bitter. While nothing has been confirmed, fans are certainly clamoring for a rematch as soon as possible – keep those fingers crossed!
He's Become An Actual Archer
Although Arrow utilizes CGI and some great camera work to make a lot of the action scenes possible, Amell has still managed to become quite the archer. In terms of raw skill, while he may not have reached the same level of accomplishment as his onscreen counterpart, the actor has developed a talent with a bow and arrows, hoping to one day take the newfound skill to the competitive level. The actor has publicly stated that he understands how protective real life archers can be of their sport, because has seen a reduction in popularity over the years. As such, whenever a pop culture icon – such as Green Arrow or Katniss Everdeen – comes around, the actors have a responsibility to ensure that the sport is represented as faithfully as possible by an actor who will treat it with the respect it deserves. Amell has also admitted that the Zen-like focus required to excel in archery has become something that helps alleviate tension in his day-to-day life.
He Dreams Of Hosting Saturday Night Live
While he may have mastered the art of superhero television, Amell also has aspirations of performing live in New York on Saturday Night Live. Admitting this dream to SNL alumni Seth Meyers when he appeared on Meyers' late night show, the revelation was met with boisterous cheers from the audience, indicating fans would also like to see such an event occur. Amell has used his social media presence to make things like this happen before: his visit to Late Night with Seth Meyers came as a result his fans aggressively championing his appearance on the late night show. Although Meyers jokingly stated that the same tactics would likely not work on Lorne Michaels – who himself does not have a Twitter account – hope remains alive that we may one day see Stephen Amell up on stage with Kate McKinnon and Jay Pharoah.
He Really, Really Loves Wine
Oliver Queen may have given up his hard partying ways, but that doesn't mean he still can't enjoy a nice glass of wine from time to time. Just last year, Stephen Amell started his own wine brand called Nocking Point Wines. The name seems fitting, as the term "nocking point" refers to the point of a bowstring upon which an arrow is placed. Interesting side note: the label designs for Nocking Point Wines were masterfully illustrated by legendary comic book artist Jim Lee – known for his work on X-Men, Justice League, and Batman titles (to name but a few). He made sure to document the entire adventure as well. Along with co-founder Andrew Harding, the Arrow star also recently produced a show called Dudes Being Dudes in Wine Country, which chronicles their journey through the winemaking process – as well as the fun they have along the way.
He's Played Oliver Queen Outside Of Television
While mainstream audiences have come to know Stephen Amell from his portrayal of Oliver Queen on The CW's Arrow his ability to inhabit that character exists beyond the realm of television. Amell has provided his voice to no less than two video game iterations of the Emerald Archer since taking on the hood back in 2012. First, he voiced Oliver Queen in the immensely popular video game Injustice: Gods Among Us, as a downloadable alternative to the standard Green Arrow the game provides. This version visually resembles Amell – complete with his first Arrow suit that he will soon ditch – and uses his gruff, menacing Arrow voice. The DLC allows The Arrow to fight side by side with the likes of Batman and Superman in a way that may not be possible on The CW for quite some time – if ever. The second time he voiced the character in a video game came in Lego Batman 3: Beyond Gotham, which provides a humorous spin on the character's origins on Lian Yu. This iteration of The Arrow allowed Amell to flex his comedy chops more than Arrow had previously allowed – although Season 4 has already brought a decidedly lighter tone to Star City. With the popularity of The CW's DC Universe on the rise, we can likely expect to see Amell lend his likeness to many more ancillary properties as time goes by.
He's A Family Man In Real Life
Amell plays the part of billionaire playboy so well; one would likely never expect that he's a happily married father. On Christmas Day 2012, Amell was wed to actress Cassandra Jean; an actress herself, Jean has appeared on numerous television series ranging from Mad Men, to One Tree Hill to CSI: Miami (which her husband would also appear on in 2010). Fans may also know Jean as a former contestant from America's Next Top Model. Amell and Jean's daughter Mavi was born in October of 2013. In an appearance on Live With Kelly and Michael, Amell explained that Mavi is short for Maverick, a name that came to Jean in a dream. Amell initially rejected the name, but fell in love with it upon witnessing the birth of his daughter. Amell merely shrugged at the possibility that Mavi gets her name from Cassandra possibly having a Top Gun fetish, so the jury is still out.
Your Daily Blend of Entertainment News
Originally from Connecticut, Conner grew up in San Diego and graduated from Chapman University in 2014. He now lives in Los Angeles working in and around the entertainment industry and can mostly be found binging horror movies and chugging coffee.