Starling City Is Changing Names, Get The Details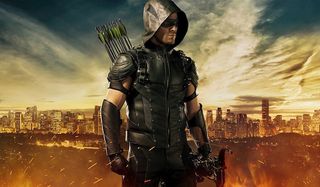 When Oliver Queen returns to Starling City in Arrow Season 4, he'll be rocking a new costume and superhero identity. Actually, there will be another change: his home won't be called Starling City anymore. Now that Green Arrow is officially hitting the scene, the series has decided to drop to rename his hometown to what it's called in the comics: Star City.
Paul Blackthorne, who plays Quentin Lance on the show, posted this photo on Instagram of himself and David Ramsey (who plays John Diggle) posed like they're starring in a buddy cop movie together. More importantly, the lettering on Blackthorne's police badge reads "Star City Metro Police," confirming that the city will be rebranding itself in Season 4. It's out with the old, in with the new. Starling City is now just a memory, and Star City is the future!
When Arrow first hit the airwaves in 2012, many Green Arrow fans were surprised that the Emerald Archer's hometown was changed to Starling City. Executive producer Marc Guggenheim said this was done to keep with the show's grounded tone and commented that Star City sounded "a little science-fiction-y." However, Arrow has become more comic book-like since then, and since the threats Team Arrow is facing are more fantastical than ever, now seems like a good time for the transition. Although he's operated in various cities, Star City is Green Arrow's main turf, and since every other DC Comics city on Arrow and The Flash is called by the same name as the one found in the comics (Central City, Coast City, etc), Star City should get the same treatment.
Fans will also remember that this name change was teased last year. While pitching Palmer Technologies at the beginning of Season 3, Ray Palmer, a.k.a. the future Atom, proposed the city should become Star City and pledged to give half of his net worth to make it happen. This was so that the city could distance itself from the terrorist attacks over the last two years, specifically Malcolm Merlyn's Undertaking and the invasion of Slade Wilson and his Mirakuru army. That particular plot point was left hanging, but as Season 3 progressed, the city also suffered through Danny Brickwell taking over The Glades and Ra's al Ghul nearly killing everyone with the Alpha/Omega bioweapon, so now there's even more incentive for a rebrand. Of course, that won't stop Damien Darhk, H.I.V.E. and other villains from causing trouble for its citizens.
Arrow will return with new episodes on Wednesday, October 7 in its normal timeslot on The CW.
Connoisseur of Marvel, DC, Star Wars, John Wick, MonsterVerse and Doctor Who lore. He's aware he looks like Harry Potter and Clark Kent.
Your Daily Blend of Entertainment News
Thank you for signing up to CinemaBlend. You will receive a verification email shortly.
There was a problem. Please refresh the page and try again.