Being Human Season 3 Review: Syfy's Supernatural Drama Returns Tonight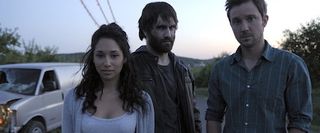 Being Human is back. The U.S. adaptation of the popular British drama is moving into its third season tonight, bringing us back to the supernatural shenanigans of Aidan, Sally and Josh, the vampire, the ghost and the werewolf, all of whom left off separated and in precarious positions at the end of Season 2, to put it mildly. The third season premiere resolves the cliffhangers and introduces some very interesting developments to the plot.
This review includes some vague spoilers about the third season premiere. In short, if you don't want to know if anyone dies (or re-dies, since two of the lead characters were technically sort of dead already), read no further. Beyond that, we'll keep the major spoilers to a minimum.
Season 2 left off with werewolves Josh (Sam Huntington) and Nora (Kristen Hager) involved in an altercation with Josh's maker Ray. While I won't get into the specifics as to how that's resolved, I will say that Josh and Nora did walk away from the altercation and have been spending the last year or so trying to find Sally (Meaghan Rath), who went to limbo to find fellow ghosts Stevie and Nick. Nora and Josh don't know where Aidan is, but because they have even less to go on with him, they're focusing their attention on visiting psychics to try to communicate with Sally. Josh seems to be at the end of his rope with the psychics, and his frustration and sarcasm on the matter adds a bit of comic relief to the premiere, which is otherwise full of drama and suspense.Their search does finally lead to something when they find Donna (Amy Aquino), a woman with the power to help them.
As for Aidan (Sam Witwer - the guy behind the beard in the above photo), he's also alive (relatively speaking) but not in good shape, having been buried in the ground. More than a year later, he's parched and borderline insane, which is kind of reminiscent of that time in Angel when he was buried alive at sea. As you might surmise, his time underground is coming to an end, but his return to the land of the living isn't exactly a picnic.
The first two episodes of Season 3 introduce a couple of major game-changers for this show, including the arrival of Liam (Xander Berkeley), the father of the werewolf twins that Josh and Nora got involved with last season. There's also an interesting development among the vampire community, which should present some major challenges for Aidan, to put it mildly. And those are just a few vague hints about what's ahead.
Season 2 saw the lead characters divided and too caught up with their own urges and natures to really look to each other for the support they needed, and we all saw where that led them. I doubt I'm alone in hoping Season 3 will bring this trio closer together, because it's their friendship that really sets Sally, Aidan and Josh apart from each of their own kind, and it's the dynamic of the characters that sets Being Human apart from some other dramas. They're at their best when they're on screen together. Signs point to things headed in a more united direction, but it's really too soon to say for sure and that may just be my optimism speculating. What is certain is that Season 3 gets off to an exciting start, with a few surprises worked into the premiere episode, and even more developments in the one that follows. Big developments.
From the first couple of episodes, Being Human is off to a good start for its third season. What's more, the show remains true to form in working humor, a little bit of warmth among the characters and the supernatural element into the drama about a group of young (mostly) people trying to find their place in the world. In that respect, Being Human remains one of the best supernatural shows on television, and the way things are already heading this year, Season 3 could end up being this show's best yet.
Being Human Season 3 premieres Monday, January 14 at 9:00 p.m. ET on Syfy.
Assistant Managing Editor
Kelly joined CinemaBlend as a freelance TV news writer in 2006 and went on to serve as the site's TV Editor before moving over to other roles on the site. At present, she's an Assistant Managing Editor who spends much of her time brainstorming and editing feature content on the site.
Your Daily Blend of Entertainment News
Thank you for signing up to CinemaBlend. You will receive a verification email shortly.
There was a problem. Please refresh the page and try again.