Being Human Set Visit: Season 4 Teases, Visual Effects And Set Photos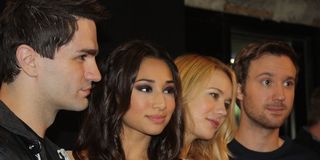 I doubt I'm alone in often hoping that the casts of my favorite shows are all friendly, funny, personable people behind the scenes. Of course, that's not necessarily true. People are always going to be a mixed bag, whether they work in television or some other industry, however in the case of Syfy's Being Human, "great chemistry" applies as much to the actors behind the scenes as it does to their characters on screen, which is why it's always so much fun to get to sit down with Sam Witwer, Sam Huntington, Meaghan Rath and Kristen Hager to talk about the show. So when Syfy mentioned that Being Human was one of two series being showcased at their digital press tour this year, I jumped at the chance to attend. Not only did the cast sit with the press to discuss Season 4, but we also got to see the first eight minutes of the Season 4 premiere, speak with the cast about the upcoming season, and walk through the set of the series, which included a very red version of the characters' house. And by red, I don't mean blood red. I mean surreal-retro red.
This is Part 1 of a two-part set visit feature. Part 2 is here and includes a video of the panel and more details about Season 4! Also be warned that some of the images are kind of disturbing.
Our morning on set began with a breakfast buffet of food and props. While the food included bacon, eggs, sausage and the like, the props included severed vampire heads, silicone babies and Sally's rotting corpse.
Probably not the preferred decor or a bit of breakfast ambiance, but the food was good and I didn't hear any complaints!
After breakfast, we were treated to a presentation by Being Human's make-up effects guy Erik Gosselin, who spoke to us about some of the practical effects for the show. Interesting bits of trivia included learning that there were thirteen babies featured in the series, four of which were mechanical. The baby props we were shown were made of silicone, as opposed to latex. It sounds like it took some getting used to, working with silicone as opposed to latex, but Gosselin says the latter material is heavy with no bounce, translucent and soft. So they're using the silicone more and more on the show. As for what we can expect in Season 4, he wouldn't give anything away, other than to say that something they did for Season 4 is even cooler than the effects they did on skinless Henry.
Next up, we heard from Visual Effects Supervisor Jonathan Legris, who showed us some of the things they do to bring the supernatural element of this series to life through digital effects. That included a video showing how they transform Josh into a werewolf, and one that showed us Sally's burning scene. Part of making a special effect work is matching the lighting. That's probably something a typical TV viewer wouldn't automatically consider, but I'm thinking we'd notice if it didn't look right. According to Legris, that takes some planning both on and off set to make the practical effects line up with the digital ones...
Legris says they use a "chrome ball" to match the lighting in a scene to the lighting in the effects they're doing. As I understand it, the ball pulls an inverted reflection of the lighting scheme from the room and reproduces it somehow in their digital effects. From there, we did the set tour, and here are a few photos from that, the first of which shows the aforementioned red theme that spreads throughout the first floor. We've seen Sally, Josh and Aidan's house transformed before, and as you'll see in the photos, that's the case here. Showrunner Anna Fricke wouldn't say why the living room, dining room and kitchen were re-decorated, only that it's in a different phase or time, maybe both. The design goal was recycled and vintage…
We might assume we're looking at a "past" version of the house, but then there's this:
Mail tacked to the fridge to Aidan and Josh, both from the same Weston Falls, MA Customer Service address. No idea if the return address is relevant (and Aidan's mail is postmarked Los Angeles) but their mail being on the fridge on this set could be a hint that this is some alternate reality situation or maybe some kind of dream sequence, sort of like that time Sally envisioned herself alive and the house looked totally different. Maybe Josh is imagining having the perfect married life with Nora? People do occasionally tend to go back to 50s-TV when they envision happy home life, don't they? Just a guess, but if it means there's a chance we get to see greaser Aidan again, I'm in.
And then we went "upstairs," which isn't actually upstairs, but next-door on set. The decor for the upstairs didn't match the retro-red downstairs, so I'm assuming there are no upstairs scenes for whatever's happening with the red theme. We got to see Josh and Nora's bedroom, which includes a wedding photo over their bed.
And Aidan's old room, which Anna says Aidan doesn't like to go in because of what happened with Henry and the two girls.
And of course, the bathroom...
There was also a "secret room" that Anna wouldn't tell us about, but included weird black scribblings on the wall and a vanity with beauty products on it. Sorry for the blurry photo but it was the only one I managed to get of the scribbles (part of which looks like a drawing of a house):
Check out even more photos from the set in the pages ahead. And keep an eye out for Part 2 of this feature, which will include the video of the cast panel, and some details and spoilers about what's ahead for Season 4! Here's a tease of cast shenanigans to come! Sam Witwer does an impressive duck-face:
Click below for more photos! Or CLICK HERE for Part 2 of this feature, which includes the cast panel video!
Your Daily Blend of Entertainment News
Thank you for signing up to CinemaBlend. You will receive a verification email shortly.
There was a problem. Please refresh the page and try again.