Being Human Renewed For Season 4, Syfy Developing Two More Miniseries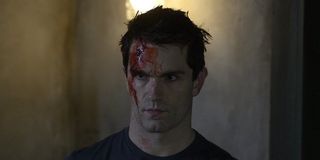 Syfy had some exciting news to announce today at the Upfronts in New York. Along with word that they're developing two new miniseries based on books, comes the announcement that Being Human has been renewed for Season 4. The announcement was made today, and comes just days after the supernatural drama series wrapped up its exciting third season.
The timing seemed perfect for the announcement about Being Human, when factoring in this week's finale. The series follows a ghost, a werewolf and a vampire who are living together and attempting to find some semblance of normalcy and humanity while battling their darker natures. (Spoilers if you haven't seen it yet!) The series left off with some interesting developments, including another big cliffhanger for Sally, who was last seen being dragged out of this plane and off to parts unknown. Josh and Aidan had their own issues to deal with, including Josh's wolfishness returning. The more things change, the more they stay the same, am I right? Fortunately, things will be staying the same - likely in dramatic, unpredictable and exciting fashion - for Being Human in Season 4, which will presumably air next year.
In terms of new content on the horizon, Deadline reports that Syfy is developing miniseries adaptations of Larry Niven's Ringworld and Arthur C. Clarke's Childhood's End. These two projects join miniseries for Philip K. Dick's The Man in the High Castle, Stephen King's Eyes of The Dragon and Darkfall among the miniseries also in development at the cable channel.
Ringworld was published in 1970 and focuses on the discovery of a world built to be three million times the area of Earth and holds remnants of ancient advanced civilizations. With gravity, high walls and good proximity to the sun, the place could be habitable for humans living on a doomed planet Earth. The project is being co-produced by MGM Television and Universal Cable Productions (UCP).
Childhood's End was published in 1953 and tells the story of an alien race that shows up on Earth and fixes mankind's biggest problems, eliminating poverty and ending war, effectively unifying the planet. What's the downside to this? Apparently, lack of conflict also yield's lack of man's attempts to strive for greatness. Is this a symptom of peace or something these Overlord's have instigated for their own agenda? I don't know, I haven't read the book, but with a premise like that, I want to! And it sounds like a great story to adapt for a miniseries.
Your Daily Blend of Entertainment News
Thank you for signing up to CinemaBlend. You will receive a verification email shortly.
There was a problem. Please refresh the page and try again.