Benedict Cumberbatch's Doctor Strange May Appear On Netflix's Iron Fist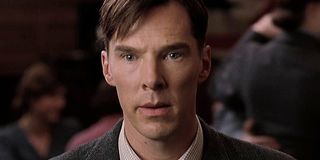 Wild rumors and the Marvel Cinematic Universe seem to go hand in hand. This fact is even more apparent when considering the cross-medium possibilities that have opened up, even beyond network TV, thanks to the spectacular success of Netflix's Daredevil. However, according to one rumor, in particular, it could be the case that one of the MCU's upcoming big-screen stars in Benedict Cumberbatch's Doctor Strange might be making his debut on the small screen beforehand.
A report from Bleeding Cool is making a rather bold claim regarding Benedict Cumberbatch, who stars in next year's cross-dimensional collision, Doctor Strange. Reportedly, Marvel plans to unveil Cumberbatch's character, Stephen Strange in an appearance of some kind on their upcoming Netflix series, Iron Fist. While the outlet admits to the unsubstantiated nature of the claim, it's an intriguing angle that's not exactly outside the realm of possibility.
While Marvel's cinematic plans have substantive dates securely locked in for their theatrical releases all the way up to 2019, the TV universe on Netflix are operating on schedules that are more loosely penciled into place. Following the recently renewed Daredevil, Netflix will eventually get around to rolling out A.K.A. Jessica Jones, Iron Fist, Luke Cage and The Defenders. However, in regards to Iron Fist, which is believed to be hitting sometime in 2016, the alignment could very well complement the release of Doctor Strange in the fall of that year. Thus, an appearance on the Netflix's Iron Fist show could potentially serve as an exciting heralding for the film.
Interestingly enough, just as Thor proved so critical in introducing the cosmic theater to the MCU, Doctor Strange has been said to be the Marvel film that would essentially focus on the new-found elements of mysticism and multiple-dimensions to the MCU. However, this is an aspect that's quite prevalent in the comic book origin of Iron Fist, whose hero, Daniel Rand is trained in a magic, mystical-based form of martial arts by inter-dimensional aliens with human-like appearance. If, indeed, the Netflix Iron Fist show makes its debut before the release of Doctor Strange, it might make sense to acknowledge this mystical Marvel connection that would potentially be introduced on the show, only to be greatly expanded in the Doctor Strange film.
In fact, the idea of a more coy television introduction of Cumberbatch's future Sorcerer Supreme might actually corroborate recent comments from Marvel's Head of Television, Jeph Loeb, who implied that the use of Easter Egg moments would consistently codify the connectivity of the Marvel properties; specifically to the Netflix shows. As precedence set by Daredevil dictates, the Marvel superheroes on the Netflix platform, referred to as "street level," will operate within New York City fighting more conventional criminals. However, Doctor Strange also happens to call New York's Greenwich Village his home and even the briefest of pre-powers street level cameos is hardly inconceivable for Cumberbatch, whose role on TV's Sherlock makes him no stranger to the small screen.
For now, that all-too-familiar grain of salt with which rumors like this are treated is probably best considered. However, it does seem that Doctor Strange looks to be another watershed moment in terms of broadening the scope of the MCU. The Iron Fist series could very well serve as a primer of some kind to the inter-dimensional aspect of the continuity. An appearance by Benedict Cumberbatch as Stephen Strange would certainly help smooth the transition when Doctor Strange astrally projects its arrival at theaters on November 4, 2016.
Your Daily Blend of Entertainment News
Your Daily Blend of Entertainment News
Thank you for signing up to CinemaBlend. You will receive a verification email shortly.
There was a problem. Please refresh the page and try again.