How Doctor Strange Will Completely Change The Marvel Universe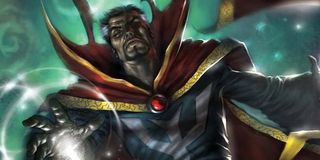 Even though it's official that Benedict Cumberbatch is playing the titular character in Doctor Strange, there's still hardly anything the Sherlock actor can say about his involvement in the Marvel film. It's understandable. The movie doesn't come out until 2016, and anything big that Cumberbatch does know can't be mentioned for fear of facing Marvel's mighty wrath - which means that it will be a long while before he can disclose anything substantial. Fortunately, a small comment that he recently made may have give us a good hint as to just how big an impact the Sorcerer Supreme's solo adventure will have on the Marvel Cinematic Universe at large.
When asked by The Wall Street Journal whether taking on Doctor Strange is seen by him as being a risk, Cumberbatch professed his faith in Marvel, and mentioned that the film's story will be building upon something that hasn't been seen yet in the MCU. Said Cumberbatch:
As to what this "huge new element" is, the first answer that comes to mind is magic. Although we've seen a lot of strange technology and devices in movies like Thor and Guardians of the Galaxy, all of it has been rooted in science… crazy, extraterrestrial science. In Doctor Strange, viewers will be introduced to a world of crazy phenomena that can't be explained in the same way. It's going to open up some weird new corners of the MCU, and Strange is going to be the primary individual dealing with these magical threats coming out of the woodwork.
There could be more to this movie than just bizarre sorcery, however. The Doctor Strange synopsis says that Stephen Strange will not only discover the "hidden world of magic," but "alternate dimensions" as well - which include the Astral Plane. In the comics, the Astral Plane is the "realm of minds" that only telepaths and magic users are able to visit. Since he was created in 1963, Strange has used astral projection to travel outside his body and engage enemies in this strange dimension. Given how many parallel universe there are in the comics, it stands to reason that the MCU might follow suit. Could Doctor Strange give us our first look at the MCU multiverse? As if our heroes didn't have enough to deal with already on this plane of existence!
In the interview, Benedict Cumberbatch also mentioned that while he didn't grow up reading comics other than the occasional issue of Asterix, he's "avidly" reading Marvel now to get prepared for the role. So be on the lookout, comic book geeks based in England or major U.S. cities. If you're lucky, you may spot the actor picking up Doctor Strange trade paperbacks and back issues.
Your Daily Blend of Entertainment News
Connoisseur of Marvel, DC, Star Wars, John Wick, MonsterVerse and Doctor Who lore. He's aware he looks like Harry Potter and Clark Kent.