Big Love: The Complete Fifth Season DVD Review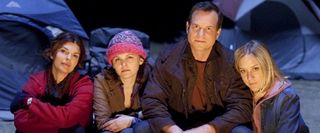 Big Love has always been a show that is a little larger than life. For its first three seasons, and even into its fourth, Big Love's over-the-top sensibility endeared itself to viewers and kept us hungering for more. Maybe it's the nature of the beast forcing Season 5 into old clichés and plot points that just don't work perfectly in the scheme of things. Certain plot points in Season 5 may leave fans who have watched for multiple seasons scratching their heads. I expect it to be far worse for those who experienced Big Love for the first time in its fifth season. Did Big Love lose its oomph or did it just lose an element of appeal?
Season 5 opens as the Henrickson family has begun to deal with the backlash being open about their polygamy has unleashed. New to his office, politician Bill Henrickson (Bill Paxton) finds himself with few friends as he tries to network. His three wives, Barb, Nicky, and Margene (Jeanne Tripplehorn, Chloe Sevigny, and Ginnifer Goodwin), all deal with unique personal crises as they try to keep the family functioning smoothly. Back on the compound, Bill's mother (Grace Zabriskie) begins to show signs of dementia and moves back in with Bill's father, Frank (Bruce Dern). Alby continues to wreak havoc and Nicky moves forward with adopting her daughter Cara (Cassi Thompson). Everything changes and nothing changes at all.
Season 5 does manage to tie up the stories it needs to in an ensemble cast. Although Aaron Paul and Amanda Seyfried's characters bow out until the last episode, without them the acting is still all there and some moments are as riveting as they have been in the past. Even with its incessant drama, Big Love is such a warm show that we've come to know each of the characters like they are old friends. We want to know how life turns out for the Big Love clan.
Unfortunately, we don't need a full season to do this. Season 5 is all about wrapping and rewrapping up storylines. It's not that Margene is boring or Barb gets to be too much. It's just that it felt like the show really hit its climax when the Henrickson family stood up for their polygamist lifestyle at the end of Season 4. Sans the Alby and Cara Lynn plotlines, the 10 episodes making up Season 5 play out like the continuation of a wrap-up instead of a season that stands on its own.
In its last few episodes, events begin to heat up. The last moments spent with Bill attempt to make up for the lack of interesting plot points early on. The finale itself is impressive and does finally manage to wrap up the series in the most efficient way given each character's story arc. It's too bad it takes the first eight episodes to make it to the ninth and tenth. While it is difficult to blame a great show for eking it out for an extra season, it would have been great if it hadn't felt so drawn out.
As far as the disc itself goes, the biggest problem with HBO sets is how long they wait to release copies. The assumed logic is sound: if HBO only allow shows to be watched On Demand for a while, it might accrue more subscribers. Sound logic doesn't mean it's any less annoying for those people trying to complete their DVD collections. Once a set is out, there are no complaints. Big Love discs have always been put together nicely, and Season 5 is no exception. It should be noted there is no Blu-Ray of Season 5; all seasons of Big Love have only been available on DVD.
The Season 5 discs themselves include an "inside the episode" segment for each episode. The big extra, however, is a retrospective featurette called "End of Days." Although the set doesn't come with a ton of bonus features, the "End of Days" segment is lengthy enough to cover each of the characters and most of the important plot points.
Overall, counting the nice discs and the plot of the final episode, I will say this: Big Love goes out with a bang. It's too bad it comes at the price of too little, too late.
Length: 600 min.
Distributor: HBO Home Video
Release Date: 12/6/11
Starring: Bill Paxton, Jeanne Tripplehorn, Chloe Sevigny, Ginnifer Goodwin
Directed by: Dan Attias, Adam Davidson, Howard Deutch, David Knoller, Omar Madha, David Petrarca
Produced by: Bernadette Caulfield, Gary Goetzman, Tom Hanks, David Knoller, Mark V. Olsen, Will Scheffer
Written by: Roberto Aguirre-Sacasa, Aaron Allen, Patricia Breen, Julia Cho, Seth Greenland, Melanie Marnich, Jami O'Brien, Mark V. Olsen, Will Scheffer
Your Daily Blend of Entertainment News