The Biggest Loser: No Excuses Watch: Season 13 - Week 1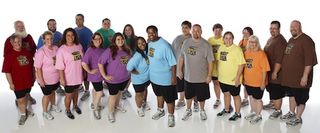 It seems like only a couple of weeks ago that the last season of The Biggest Loser ended. Oh, yeah, wait, it was. Arizonan John Rhode ended up dropping 220 pounds (very nearly half of his original starting weight of 445) and copped the $250,000 prize. And before you can say "ho-ho-ho" or "Bob's-yer-trainer", we are starting up a brand new season, which has been entitled The Biggest Loser: No Excuses, which I suppose is as good a catchphrase as any.
Former tennis star and ultra-hottie Anna Kournikova proved to be a decent if not uber-effective trainer last season, and for whatever reason, she will not be back this season (except, presumably, in spirit). Bob Harper is back, of course, and he will be joined by last season's other newbie trainer, Dolvett Quince. Twenty new contestants waddled onto the ranch on Tuesday, hoping to reclaim their lives and chase away whatever demons led them down the garden path to sloth and gluttony.
What follows is a brief description of each of the ten teams, as well as whatever important info I could glean from both this episode as well as their personal bios that I found on the show's main website. Any further insights will be elaborated on in forthcoming weeks.
Aqua Team: Adrian (34) and Daphne (37) Dortch - a brother/sister team from Evanston, Illinois. Adrian is a music producer and a community activist. Obese since childhood, he has been a background vocalist for artists such as Seal and Paul Anka. He has also run for public office in his local gonvernment and pledges to change the lives of the youth in his community. Daphne is a paralegal, a kids' activity team member, and a single mother of three. She gained most of her weight during her various pregnancies, and has been diagnosed with atrial fibrillation and sleep apnea. She looks forward the most to being rid of her various medications and not having to use a CPAP machine to sleep at night (as well as looking hot in a bikini). Starting weights: Adrian – 370, Daphne – 271.
Brown Team: Ben (34) and Allen "Buddy" (34) Shuh - two brothers from Michigan. Ben is a retail store manager, whose addiction to food came early on, likely because his father was an executive VP of Burger King. Though he was a star athlete in high school, he started putting on weight, and ballooned even further after his divorce in 2002. Since then, he has remarried, but in a household with nine kids and a tenth on the way (the first with his new wife), he knows the time to get healthy is now. Buddy is a pastor, and was also a star athlete in his youth. Tragedy struck in 2005 when his wife gave birth to a daughter, who died within six months due to health complications. Yikes. He wants to be free of high blood pressure, and be there for many years for his wife and four other children. Starting weights: Ben – 396; Buddy – 403 (the heaviest on the Ranch this season).
Gray Team: Mark (43) and Isaac "Chism" (19) Cornelison - a father/son team from Magnolia, Texas. Chism is a college student majoring in film production and screenwriting, and also enjoys performing, though his weight has severely limited his opportunities in that field. A bad car accident at the age of ten resulted in multiple surgeries on his ankle and growth-plates, thus leading to a sedentary lifestyle and health problems that teenage boys should not have. He wants to lose the weight to pursue a more active lifestyle. Mark is a youth pastor, who hopes to give his wife "the husband she deserves", as well as to be a symbol of inspiration for his community… as well as being free of high blood pressure, high cholesterol and acid reflux. Damn, a triple whammy. Starting weights: Chism – 361; Mark – 291.
Orange Team: Cassandra Sturos (25) and Nancy Rajala (63), a grandmother/granddaughter team from Fowlerville, Indiana. Cassandra is an in-home senior caregiver, but hopes to move to New York City and pursue a writing career. Heavy since second grade, she wants more than anything to "get off the sidelines of her own life". Nancy lost her husband of 35 years eleven years ago, which was when her weight problems started. With thirteen kids and fifty-five (!!) grandkids, she dreams of regaining the youthful vigor she once possessed. Starting weights: Cassandra – 239; Nancy – 217.
Red Team: Christine (42) and Roy (63) Pickler, a husband/wife team from Middlebury, Indiana. Christine is self-employed, and a very busy mother of four children (from her first marriage) and three adult stepchildren. Juggling work and family has caused her weight problem, which she desperately wants to get under control. Roy, as advertised in the previews, is the guy that is the dead ringer for Santa Claus. Apart from being employed as a department store Santa, he is also a longtime scout-troop leader. After breaking his leg last year, his already-present weight problem worsened, and he dreams of not only running a marathan but not possessing a belly that shakes like a bowlful of jelly. Starting weights: Christine – 240; Roy – 306.
Green Team: Conda (24) and Jeremy (22) Britt - a brother/sister team from Rockford, Michigan. Conda, ironically, is a nutrition health services technician, a college student and a single mother. She is aware of the hypocrisy of being obese while seeing to the nutritional needs of hospital patients, and wants to eliminate her bad habits before her daughter picks them up. Jeremy is a banker who, like his sister, comes from a family of overweight people, including a grandmother who passed away several years ago from weight-related issues. He joined the show because he wants to play b-ball with his buds, play golf without using a cart and go to the beach without wearing a shirt. Starting weights: Conda – 294; Jeremy – 389.
Pink Team: Emily Joy (29) and Kim Neilson (38) - two total strangers (yes, you read right), who had never met until walking on the Ranch. Nice touch, show! Emily is a schoolteacher from Huntersville, North Carolina who once earned medals in the National Junior Olympics in the sport of weightlifting. About to turn 30, she wants to start the next decade of her life healthy and free of health problems, as well as to fulfill her dream of hiking through the mountains of her family's homeland of Sicily. Kim is a former WWE wrestler from Roswell, Georgia, where she used the name "Desire". After a spinal injury ended that career six years ago, she stopped exercising and started eating. A mother of three, she longs to be around for her children as long as possible, as well as to have the energy to keep up with them. Starting weights: Emily – 264; Kim – 252.
Yellow Team: Gail (57) and Lauren (26) Lee, a mother/daughter team from Poolesville, Maryland. Gail is a realtor who has been gaining weight gradually over the last three decades. She beat polio as a toddler, but now has to tackle diabetes, and is on the show at the behest of her family, who desperately want her around for many more years. Lauren, an exercise physiologist, gained most of her weight in college. Through her profession, she has the tools to get healthy but is overwhelmed just knowing where and how to start. She wants to be active again, and is looking forward to starting – and completing – a marathon once she gets in shape. Starting weights: Gail – 322 (heaviest woman this season); Lauren – 246.
Blue Team: Joe (38) and Mike (41) Messina, two half-brothers originally from Auburn, New York. Joe, a truck driver, has been overweight all his life, but a recent trip to an amusement park with his three kids, where he was unable to fit on most of the rides, motivated him to try out for the show. Mike, who now resides in Oakland, California, is a cook who has been diagnosed with asthma and is pre-diabetic. He is on the Ranch to be a better husband to his fiancee and a better father to his ten-year-old daughter, and hopes to be a trainer and mentor to overweight children after he gets his own health in order. Starting weights: Joe – 357; Mike – 358 pounds.
Purple Team: Kimmy (48) and Megan (21) Stone, a mother/daughter team from Dittmer, Michigan. Kimmy is a registered nurse whose weight problem started after her father passed away, and this has resulted in type 2 diabetes, hypertension and hypothyroidism. Her ultimate goal is to get healthy so she can be a good example for her kids as well as her patients. Megan is a college student as well as a supporting member of an organization that assists disabled adults. She is also an avid horse-lover, and when she found herself unable to mount her favorite steed by herself, she realized it was time for a change. She hopes to lose weight so she can participate in rodeos again, as well as to shop at stores that don't cater exclusively to "plus-sizes". Starting weights: Kimmy – 219; Megan – 259.
Alison was there to greet the contestants before they even got through the front gates, and informed them that there was going to be a challenge, right then and there, that would result in one team being sent home straightaway. Sadly, it was the Aqua Team, Adrian and Daphne, that ended up falling short. But as I'm sure you all know, this isn't the kind of show that punishes failure, so Alison informed them that if the pair of them, on their own, can lose 50 pounds in one month, they will be allowed back in the game.
As much as the show is about health and losing weight, The Biggest Loser is also a reality show, and as such, must always throw the occasional curveball to keep things interesting. The next day, as the contestants got used to the Biggest Loser gym for the first time, Alison dropped the bomb on them: that even though the teams arrived as duos, they would not remain so. All ten teams would therefore be splitting up, with one member training under Bob and the other training under Dolvett. This announcement did not go over well with some people, but those are the rules. Some teams came to their decision quite easily, while others had to do a coin flip or rock-paper-scissors to determine who went where. In the end, here's how it went:
Bob's Team (Black) - Jeremy, Kim, Joe, Christine, Cassandra, Ben, Megan, Chism and Gail.
Dolvett's Team (Red) - Conda, Emily, Mike, Roy, Nancy, Buddy, Kimmy, Mark and Lauren.
Because of the introductory paragraphs, I'm already running long, so I'll just cut to the first team weigh-in:
Black Team (Bob) Cassandra - lost 14 pounds (-14 total), -5.86%, now stands at 225.
Joe - lost 15 pounds (-15 total), -4.20%, now stands at 342.
Ben - lost 15 pounds (-15 total), -3.79%, now stands at 381.
Emily - lost 10 pounds (-10 total), -3.79%, now stands at 254.
Jeremy - lost 13 pounds (-13 total), -3.34%, now stands at 376.
Christine - lost 8 pounds (-8 total), -3.33%, now stands at 232.
Chism - lost 12 pounds (-12 total), -3.32%, now stands at 349.
Gail - lost 9 pounds (-9 total), -2.80%, now stands at 313.
Megan - lost 7 pounds (-7 total), -2.70%, now stands at 252.
Total - 103 pounds lost (-3.64%).
Red Team (Dolvett)
Buddy - lost 22 pounds (-22 total), -5.46%, now stands at 381.
Kim - lost 13 pounds (-13 total), -5.16%, now stands at 239.
Roy - lost 14 pounds (-14 total), -4.58%, now stands at 292.
Kimmy - lost 9 pounds (-9 total), -4.11%, now stands at 210.
Lauren - lost 9 pounds (-9 total), -3.66%, now stands at 237.
Mike - lost 13 pound (-13 total), -3.63%, now stands at 345.
Mark - lost 9 pounds (-9 total), -3.09%, now stands at 282.
Conda - lost 9 pounds (-9 total), -3.06%, now stands at 285.
Nancy - lost 5 pounds (-5 total), -2.30%, now stands at 212.
Total - 103 pounds lost (-3.98%).
I find myself a little disappointed in these numbers. Usually, Week One numbers tend to be in the 15-30 pounds lost range, but not this season. Perhaps its because collectively, this group isn't quite as heavy as past groups have been, I don't know. I certainly don't want to believe that Bob's lost his touch, especially in light of the fact that his team lost the first weigh-in, which is unbelievable when you consider that his Black Team didn't lose a weigh-in for nearly the first half of the season. It's worth noting that the Red Team lost the same number of pounds than the Black Team did, which is remarkable when you consider they went into the weigh-in over 200 collective pounds lighter.
Kudos. To Dolvett, for coaxing his team to a Week One victory, something he really wanted to do to Bob. To Buddy and Roy, for dropping out of the 400's and 300's, respectively; and to Cassandra, for winning the "highest percentage" crown this week.
Elimination. There was a brief pre-elimination meeting by the Black Team that I missed because my telecast was interrupted by a "Decision 2012" news blurb, but the show resumed in time for me to find out that Ben nobly volunteered to go home first, doubtless because he misses his enormous brood and because he didn't want someone just as deserving to go home in his place. What a sweet guy, I'm sorry I won't get the chance to know him better.
Update. Since returning home, Ben has continued down the road that Bob started him on, and has lost an additional 35 pounds. That brings him to 346 pounds, and though he does look a lot better, he's got a long way to go. I think he will definitely get there. Ten kids? Wow. That makes me tired just thinking about it.
Next week: In a game of Biggest Loser poker, the Red Team takes a huge gamble. Will it pay off?
Your Daily Blend of Entertainment News
Your Daily Blend of Entertainment News
Thank you for signing up to CinemaBlend. You will receive a verification email shortly.
There was a problem. Please refresh the page and try again.