The Biggest Loser: No Excuses Watch - Week 12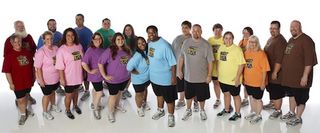 Last week, the contestants jetted off to scenic Hawaii, where the group learned that it was indeed possible to lose weight while on vacation. The suddenly ally-less Kim kept her hopes afloat by being dropping the highest percentage, while Megan fell below the Yellow Line wither her mom Kimmy. Naturally, Kimmy fell on her sword for her daughter, and she was sent home. Seven remain.
This week's excuse du jour: "Exercise is boring." This was disproved early on, as Mark, Buddy, Jeremy and Kim went to a Zumba class. I'd heard of Zumba, but never really seen it. It's like a combination aerobics class and dance party, and it looked like a blast. Buddy turned out to be the life of the party, showing off some white-guy dance moves that had Jeremy (and me) laughing like crazy. Even Dolvett got down and funky.
A lot of attention was paid to Megan this week by Bob, for the simple reason that she has been in last place in percentage dropped for a significant portion of the season. And it's true, she tends to seesaw back and forth between bad weeks and so-so weeks, and Bob concludes that it's because her work ethic slips when he's not there to push her. But push her he did, during a bike ride up a very steep mountain/hill. To her credit, she did not stop once, even after leaving Conda and Christine in her dust. Good for her.
To make sure Megan was keeping up with her regimen in his absence, Bob made Megan record herself in the form of a video diary, from sunup to lights-out. She credited this idea with eliminating her ability to slack off even just a little, and you know, I've been waiting for this Megan to show up. I do like her, even though she's mostly been a non-entity this whole season.
There was also a surprise visit from none other than Subway Subs spokesman Jared Fogle himself, paying a visit to the Ranch for the first time ever. Really? I guess that's true! That's shocking, given how TBL and Subway have gone arm-in-arm for at least a few seasons now. He's the perfect guy to motivate the contestants, having once weighed over 400 pounds himself at one point. And now, he'll never half to pay for a sandwich again as long as he lives. Best of both worlds.
There was a charity-based challenge, in which the contestants had to load 150 boxes of food each (weight either 15 or 20 pounds) onto a truck bound for local food banks. In addition to getting a one-pound advantage at the weigh-in, the winner also got a boost for their community: namely 30,429 pounds of food donated to local food banks in the winner's hometown. The winner in question turned out to be Magnolia, Texas, the hometown of Mark. As a consolation prize for finishing, all of the other contestants' hometowns were awarded one truckload of food as well. That's just awesome.
Here's how the weigh-in went:
Kim - lost 7 pounds (-88 total), -4.09%, now stands at 164.
Conda - lost 7 pounds (-77 total), -3.23%, now stands at 210.
Christine - lost 4 pounds (-70 total), -2.30%, now stands at 170.
Jeremy - lost 6 pounds (-128 total), -2.25%, now stands at 261.
Buddy - lost 6 pounds (-134 total), -2.18%, now stands at 269.
Below the Yellow Line:
Megan - lost 4 pounds (-68 total), -2.05%, now stands at 191.
Mark - lost 0 pounds (+1) (-91 total), -0.50%, now stands at 200.
I'm surprised but not shocked that Mark pulled a zero… the man is looking chiseled, and as I said, he doesn't have much farther to go anyway. I am surprised that Kim, who has even less distance to go to reach her ideal weight, was far and away the biggest loser again this week. I can't believe she can continue it, though… her current BMI is 25.7 (24.9 is considered "normal"), whereas Buddy and Jeremy are still over 35, which is "Obese Class II". She's just a workhorse. And not only did she win the weigh-in, she also took home $7,000 as a result of winning a cooking challenge on this episode (sorry I forgot to mention that earlier.
Kudos. To Kim, for putting up incredible numbers again. I keep waiting for the week when her body hits the proverbial wall, but it hasn't happened yet. It's simple math; she can't possibly win this season, unless somehow Buddy and Jeremy get voted off before the finale.
Elimination. I felt so bad for Megan, who probably had her best week mentally this episode. She truly seemed to overcome whatever was holding her back, and yet she still ended up below the Yellow Line. I half-expected Mark to go home because he was not only a bigger threat to win but also closer to his goal weight, but
Standings. No change in the standings this week. Kim remains in first place with 34.92% lost, followed by Buddy (-33.25%), Jeremy (-32.90%), Mark (-31.27%), Christine (-29.17%) and Conda (-28.57%).
Update: Megan has dropped an additional six pounds since going home, bringing her to a total of 75 pounds lost, but at 189, she still has a ways to go and she knows it. However, she's gotten back in the saddle (literally) again and is looking forward to being a full-fledged equestrienne again, and not only THAT, her boyfriend Michael (who has dropped 80 pounds himself) popped the question, and she has the ring on her finger to prove it. Yeah, Megan!
Next week: because The Voice will have its results shows on Tuesdays from now on, Biggest Loser will be reduced to one-hour episodes. Also: Makeover Week!
Your Daily Blend of Entertainment News