The Biggest Loser Season 12: Battle of the Ages Season Preview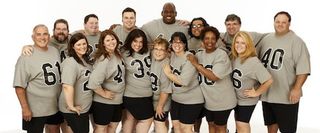 I started recapping the The Biggest Loser last season, and it went pretty well. It was a fantastically entertaining season, and a very deserving winner, opera singer Olivia, was crowned, just inches ahead of her sister Hannah. Last season was also a turning point in the show's history: two new trainers, Brett and Cara, were brought in, and they show really made the game confrontational, as the new trainers led one faction of contestants and Bob and Jillian led the other.
Sadly, neither Brett nor Cara will be back this season. And, even more sadly, world-famous trainer, entrepreneur and philanthropist Jillian Michaels decided to move on as well. Though she has a reputation as a tough-as-nails drill instructor of a trainer (well-deserved), she really does have a heart of gold, and none could begrudge her the opportunity to take her career in a new direction, where she will doubtless help countless thousands of other people. I might also mention, starting this January, I set out to lose weight myself, and had actually achieved a 40-pound weight loss at the end of July. However, the long, brutally hot Arizona sun sapped my will to go to the gym, and I ended up putting a few pounds back on (just a few, promise), and will now endeavor to get back on the horse. Hopefully by the time this season ends, I can go back past the 40-pound mark and keep going.
This season will be different for a couple of reasons: first off, it will be the first season since Season Five that the contestants will not start off in teams of two. Rather, the fifteen contestants will be split up by age into three groups of five: one group under 30, another group over 50, and a third group in between. As we found out last season, former tennis star and all-around hottie Anna Kournikova will be joining the show as a trainer, and there will be a brand new trainer as well. His name is Dolvett Quince, a resident of Stanford, CT, who has achieved fame in the fitness world as a "body sculptor". He has worked with celebrities such as Janet Jackson, Justin Bieber and Nicole Ari Parker (and he looks kinda like the Old Spice guy), and he is certified out the wazoo to do this show. Should be interesting.
Red Team (Dolvett Quince)
Patrick Ferrari (26) – Patrick is a mental health foster care worker from Albany, OR. Born in San Diego with seven siblings, he had to deal with an absentee father who spent much time in prison and with substance abuse problems. He has a bachelor's degree in public policy and administration with an emphasis on law enforcement, but has been unable to pass the physical tests for Oregon police officers because of his weight. This is primary motivation, along with helping his equally unhealthy wife, as he blames himself for causing her weight problem. Starting weight: 387 pounds.
Vincent "Vinny" Hickerson (27) – Vinny is a songwriter and entertainer from Nashville, TN. Overweight since childhood, he has fulfilled his dream of becoming a recorded singer after Toby Keith helped him and his band, Trailer Choir, sign a record deal after watching them perform. Though they have opened for acts such as Keith, ZZ Top and Sugarland, and even been nominated for Best Group Video at the 2010 CMA Awards, he wants to overcome the handicap of his obesity so he can truly enjoy the success he has worked so hard to achieve in his personal life. Starting weight: 426 pounds.
Jessica Limpert (26) – Jessica is a travel nurse from Pittsburgh, PA. After earning a nursing degree from DeSales University and subsequently having to move every three months, her stressful work day caused her to gain weight and keep it on. It took a medical mission to Ecuador, where she was the only obese person there, to make her realize that a change needed to be made, and she's here so that she can do all the things on her "bucket list" that she's been wanting to do but hasn't been able to do. Starting weight: 254 pounds.
Ramon Medeiros (27) – Ramon is a tattoo artist from Florence, CO. Being half-Hawaiian, half-Mexican, Ramon grew up in an environment where food was a major role. Despite that, he was an active athlete at Cornell University but gained a lot of weight once he finished school. He wants to follow in the footsteps of previous Tongan contestants like Sam, Koli and Sione and teach his family and community how to life healthier lifestyles. Starting weight: 355 pounds.
Courtney Rainville (24) – Courtney is an Internet marketing specialist from Scottsdale, AZ. (Represent!) Born the youngest of four kids in Lewiston, ID, she struggled with weight as a child but turned to athletics in high school, even becoming her student body VP and homecoming queen. She wants to learn how to keep the weight off for good, to help her equally-obese family learn how to be healthy as well, and to join her friends in shopping for clothes in regular clothing stores. Starting weight: 270 pounds.
Black Team (Bob Harper)
Antone Davis (44) – Antone is a restaurant manager from Knoxville, TN. A native of Georgia, he had a brilliant career first at the University of Tennessee and then seven seasons (1991-97) playing for both the Philadelphia Eagles and the Atlanta Falcons as an offensive tackle. A married father of four, Antone suffers from high blood pressure and cholesterol, and is determined not to be like many of his friends (including former players) who died young once their playing days ended. Starting weight: 447 (heaviest contestant).
Joe Mitchell (46) – Joe is a home health therapist from Knoxville, TN. He put on most of his weight after graduating college with a BA in occupational therapy after being very physically active. He promised his dying father that he would lose the weight for his family, which includes his wife of 25 years and his two kids (one of whom was adopted). He wants to go adventuring with his family when his journey is complete. Starting weight: 348 pounds.
John Rhode (40) – John is a special ed teacher and football coach from Mesa, AZ. A former athlete in football and track, John eventually regressed to obesity like most of his immediate family. He and his wife of 18 years have successfully adopted two Russian children, and it is for them that he has decided to break the cycle for good. Starting weight: 445 pounds.
Jennifer Rumple (39) – Jennifer is a television producer from Alameda, CA. She is a self-made woman, having had to work full-time to put herself through college, earning a degree in journalism from the University of Indiana. She was able to overcome temporary paralysis after a car accident in 1995, and now she is ready to triumph over her obesity and take an active role in her own life. Starting weight: 330 pounds.
Sunny Sinclair (41) – Sunny is a fifth-grade teacher from Frisco, TX. She gained most of her weight during her first pregnancy, which occurred in her last semester of college. She has continued to further her education but wants to set an example for her students and her 15-year-old son, as well as resuming the active life she once had. Starting weight: 277 pounds.
Blue Team (Anna Kournikova)
Becky Comet (51) – Becky is a math teacher from Benton, AR. A mother of four, she has struggled with her weight her whole life, and has dealt with diabetes and heart issues as well. She has been a teacher for 25 years, and wants to be a role model for the increasing numbers of overweight children she sees on a daily basis. Starting weight: 238 pounds.
Mike Danley (62) – Mike is a high school teacher and football coach from Spencerville, IN. A former all-American in football and wrestling, Mike has gained most of his weight in the last ten years. He has been a teacher and coach for 39 years and has been married to his wife (also a teacher) for 38. He was recently diagnosed with neuropathy, high blood pressure and atrial fibrillation, and wants to get healthy so he can enjoy time with his wife, kids, and his first grandchild (who was just recently born). Starting weight: 309 pounds.
Johnny Forger (65) – The oldest contestant this season, Johnny is a realty company owner from Canton, MA. Born and raised on a Massachusetts farm, Johnny is hoping to follow in the footsteps of his son Gregg, who lost 80 pounds after being inspired by the show. He wants to lose weight so he can enjoy his retirement with his wife of 43 years, his three grown kids and nine grandkids. He also hopes to be an inspiration to other overweight seniors. Starting weight: 328 pounds.
Bonnie Griffin (63) – Bonnie is a retired payroll supervisor from Picayune, MS. Raised in New Orleans with eight brothers and sisters, she is a longtime fan of the show, though it hasn't caused her to change her eating habits. After having her life uprooted by Hurricane Katrina and then having to deal with a husband dying of cancer and a grandson with Down's syndrome, enough is enough. Her goal is to "taker her kids and grandkids to Disney World without having to rent a wheelchair to get around." Starting weight: 254 pounds.
Debbie Lounds (60) – Debbie is a senior administrative assistant from Ann Arbor, MI. Having just quit smoking after four decades, she wants to make the other major change that she needs to, her weight, which has also plagued her for four decades. Her motivation for being on the show is to have access to not only the best trainers but doctors and nutritionists as well, and to be able to play an active role in the lives of her grandchildren. Starting weight: 239 pounds.
The fun begins on Tuesday, September 20th (8/7c on NBC). See you then!
Your Daily Blend of Entertainment News
Thank you for signing up to CinemaBlend. You will receive a verification email shortly.
There was a problem. Please refresh the page and try again.