Bill Murray Will Show Up On Rashida Jones' New Show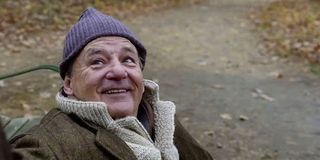 Good news for Bill Murray fans. The beloved comedian is set to hit the small screen in another "likely hilarious" TV cameo. The news just dropped yesterday that the Olive Kitteridge star plans to appear on Rashida Jones' new show Angie Tribeca, which will follow LAPD's elite RHCU (Really Heinous Crimes Unit). Due to the nature of the show and Murray's recent cameo in NBC's Parks and Recreation about two weeks back, we're left wondering if he could play a dead guy on TV, yet again.
While we very much love Bill Murray (complete with a heartbeat), we certainly wouldn't mind if he again hilariously chose to flirt with death in his upcoming appearance on Jones' comedy series. According to EW, Murray is set to guest-star as Vic Deakins, "an amiable grocery store clerk" who hits on Angie Tribeca (Jones) while on the job, going so far as to slip her his phone number. From the sound of it, he will very much be alive, but with the comedian only appearing in a single episode, it definitely has us wondering if he will meet a sudden fate. I mean, it is a police procedural parody show.
Jones is not the only Angie Tribeca team member to have ties to Murray. The Alpha House actor also appeared opposite Steve Carell (exec producer of the upcoming comedy) in a scene of his 2008 spy comedy Get Smart.
Angie Tribeca was created by Steve Carell, along with his wife Nancy Carell. It was already in the works about two years ago, and was picked up to series by TBS in May of last year. The show is a single-camera comedy written by the Carells, and follows an eccentric but highly intelligent crew of LAPD detectives as they investigate crime across the city. Jones' character (Angie) is said to be a "lone wolf" who is strong, capable and dedicated to her job. Jere Burns (Burn Notice, Breaking Bad) will co-star as Jones' boss Chet Atkins and Deon Cole (Black-ish) will play a character named DJ Tanner so I'm guessing we can expect endless Full House jokes.
The comedy series, said to be in the vein of The Naked Gun, has already locked down a slew of actors and actresses for the pilot, including Lisa Kudrow, Alfred Molina, Nancy Carell, Gary Cole, Macarthur and Matthew Glave. Other guest stars set to appear on the show at some point are Amy Smart, David Koechner (The Office) and Jones' fellow Parks and Recreation cast member Adam Scott. Jones' father and famed music producing legend Quincy Jones will also appear in one episode.
Angie Tribecais expected to air on TBS later this year.
Your Daily Blend of Entertainment News