Body Of Proof's John Carroll Lynch Heading To NBC's Do No Harm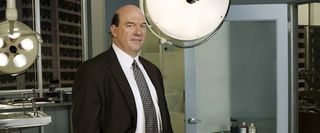 John Carroll Lynch's numerous appearances in film and television over the years have likely made him a familiar face to viewers, if not a familiar name. His credits include Carnivale, K-Ville, Crazy, Stupid, Love, and most recently, the part of detective Bud Morris on ABC's Body of Proof. While it doesn't look like he'll be returning to Body of Proof for Season 3, fans will be able to find him on television next season, this time on NBC.
TV Line is reporting that Lynch's option to return to the Dan Delany-starring series wasn't picked up by ABC, leaving him available for other roles. And he's already found one as a series regular for NBC's upcoming midseason drama Do No Harm.
Do No Harm stars Rescue Me's Steven Pasquale as a surgeon who's struggling to keep his aggressive alternate personality from surfacing and making a mess of his life. It seems like a risky premise, considering shows with similar concepts haven't done well (My Own Worst Enemy, Awake), but there's definitely promise there and the cast is great. Also among the cast is Phylicia Rashad and Mousa Kraish. Lynch appeared in the pilot for the series as a guest star, playing the Narcotics Anonymous sponsor to Pasquale's character.
Considering he'd already appeared int he pilot, this may have been a back-up plan for Lynch, if not his intention all along (assuming he knew the end was near for his BoP character). Regardless, it's good to hear he's found another role so soon after his departure from Body of Proof.