Bones Renewed For Season Eight On Fox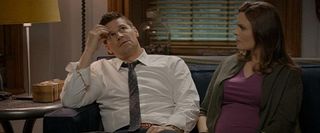 Good news, Bones fans! Fox isn't going to keep you waiting to find out if the series will return. They've already renewed Bones for another season, bringing them to eight seasons and tied with on-the-way-out House for longevity.
The Fox drama lineup is a little uncertain for next season. House has been officially cancelled, and so has Terra Nova. A few other series are still awaiting news of renewal or cancellation, including fan favorite Fringe, which is still in negotiations. Then there's Alcatraz, whose future is in question as well. But one drama will be returning for sure in the fall, as TVLine confirms that Bones has been renewed for another season.
Bones has been noticeably absent for a little while, but is set to return on April 2nd with a long-awaited new arrival that should have viewers tuning in. The single-season renewal may come as a surprise to some, since it had been previously hinted at PaleyFest that a two-season renewal could be in the cards for Bones. Either way, it looks like some of the plotlines and characters that have been sidelined will get their chance in the upcoming season after being pushed aside due to this season's shorter run.
Bones is being moved to Mondays for the remainder of this season; no word yet on whether it will remain in that timeslot next season. Most likely that will depend on which other dramas get renewed and which are cancelled, so we'll have to wait and see.