The Boondocks To Return March 2010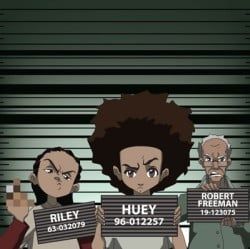 It's been almost two years since we got any new episodes, and I know I thought Aaron McGruder's The Boondocks was gone for good. First, he took away the newspaper strip to focus on the animated series, and then it ended in March, 2008. So it's incredibly exciting to hear that the third season of the show should kick off in March 2010, as reported by Zap2It.
Adult Swim has been hyping that they've seen scripts, and basically telling us to not give up hope, but McGruder is very particular about how he wants these characters presented. He abandoned the newspaper strips because they wanted to censor his work too much, and he's caused no small amount of controversy with the series.
But, it's that passionate and singular vision that makes The Boondocks so damned funny in the first place. The series aggressively attacks race relations by having the South Side Chicago Freeman family move to a quiet suburb in Maryland. But The Boondocks definitely isn't The Fresh Prince of Bel-Air. Ten-year old Huey is way too smart for his own good, while Riley is way too much everything for everyone's good.
The Boondocks was one of the freshest comic strips in the newspapers, and the medium is weaker for their absence. That's why I'm glad to see their absence from the television coming to an end.
Your Daily Blend of Entertainment News
Thank you for signing up to CinemaBlend. You will receive a verification email shortly.
There was a problem. Please refresh the page and try again.