Boy Meets World Sequel Series Could Happen At Disney Channel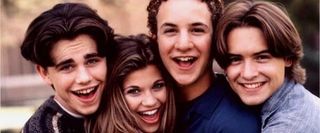 We haven't seen a lot of Ben Savage on the small screen in recent years, but the 32-year-old actor is still remembered well for his role as Cory Matthews, the lead character in ABC's 90s sitcom Boy Meets World. And there's a chance he could reprise that role, should things work out for the sequel Disney Channel is reportedly trying to develop.
TVLine says Disney Channel is in the early stages of putting together a sequel series for Boy Meets World, which would center on the preteen daughter of Savage's character Cory and his childhood sweetheart Topanga. TVLine's sources say Disney is in the process of trying to get Ben Savage and Danielle FIshel (Topanga) to sign on for the project.
Boy Meets World premiered in 1993 as part of ABC's TGIF lineup, and followed Cory Matthews, a grade-schooler at the time, and his friends Shawn and Topanga. As the series went on, Cory, Shawn and Topanga grew up. That was sort of the point of the sitcom, but the series gradually evolved as the characters aged and attended high school and then college. The show ended in 2000, by which time Cory and Topanga were married.
Hearing this sequel news, my first thought was to wonder why this project wasn't being developed at ABC Family. It seems like it'd be a good fit to pair with Melissa & Joey, a comedy that has its own double-dose of nostalgic value in its 90s stars Joey Lawrence and Melissa Joan Hart. But with Disney Channel developing the project, the idea may be to target an audience that consists of kids as well as their parents, similarly to programming like Good Luck Charlie.
I was a big fan of Boy Meets World in its earlier seasons, but admittedly, I lost track of the show around the time Cory and Topanga went to college. A follow-up in some form could be fun. Cory and Topanga were a beloved 90s TV couple and there are probably plenty of fans would love to see them back together in a TV show, as well as kids who'd be up for another preteen-focused comedy. At this point, nothing sounds official, but apparently the idea is out there and who knows what could happen?