Breaking Bad Comic-Con 2013 Live Blog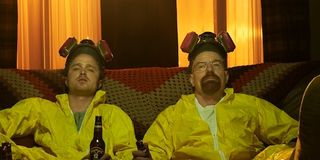 This summer will mark the beginning of the end of one of the greatest television shows of all time. On August 11th AMC will debut the first episode of the second half of Breaking Bad's fifth and final season, and we will finally figure out what will happen to Walt, Jesse, Hank, Skyler and the rest of the Albuquerque gang. But before any of that, today we get a very special sneak peek.
Just like last year, the dark meth-driven drama has returned to San Diego Comic-Con, but instead of being in the smaller Ballroom 20 like it was in 2012, this year the show has taken over Hall H and will hopefully have some big surprises in store. Refresh this page as often as you can, as I will be delivering up to-the-minute updates about everything that's going on during the panel!
11:20 a.m.: It's time to cook some meth in Hall H!
11:21 a.m.: Moderator Chris Hardwick notes that the show has been nominated for 13 Emmy Awards, and that he will be hosting a show called Talking Bad on August 11th to serve as a retrospective of the series.
11:23 a.m.: Now it's time for a trailer that takes us back through the previous seasons.
11:26 a.m.: Damn, simply one of the greatest shows of all time.
11:27 a.m.: Bryan Cranston, Aaron Paul, Anna Gunn, Dean Norris, R. J. Mitte, Bob Odenkirk, and Vince Gilligan on stage!
11:28 a.m.: Bryan Cranston has a Walter White mask with him and it looks scary realistic. Absolutely terrifying. He apparently walked the floor wearing it, and even used a higher voice to disguise his identity.
11:28 a.m.: Gilligan says that he never expected the show to end up like it has and really never pictured that they would end up in Hall H. Aaron Paul gives it a loud, "Yeah, bitch!"
11:29 a.m.: Cranston says that we all have every kind of emotion within us, and if you push the right buttons at the right time you can end up with someone like Walter turning into Heisenberg. In the first episode he became someone he isn't and he sold his soul.
11:31 a.m.: Now Cranston has put his Heisenberg mask over his microphone. He's talking into his own head…and basically kissing it while talking.
11:32 a.m.: Now Aaron Paul is talking into the mask as well and basically making out with it.
11:33 a.m.: Paul says that Jesse has been through a lot and now that he's going into the final season he is terrified of Walter White. He was a lost kid at the beginning and searching for guidance, and he stumbles across Walter – who he is very impressed by. And now he just wants to stay as far away as possible.
11:34 a.m.: Paul gives all credit to Gillgan for his Emmy Awards. While the subject matter of the show is incredibly dark, apparently shooting on set is very light thanks to Cranston's presence.
11:35 a.m.: Anna Gunn says that Skyler had her dreams deferred just like Walter from the start, and life threw them some curve balls. She's dealing with a lot of disappointment, but would never admit it to anybody. She has the same kind of things living in her that he does, so instead of turning him in or running away she decides to stay and thinks she can outsmart the situation. Every action she takes makes it worse.
11:36 a.m.: Is a normal life possible? Gunn says that she hopes against hope and just wants everything to work out. But she knows somewhere inside of her that it probably won't. She believes that the family does still really love each other, and between all of the powerplays and drama they still right to reach that love.
11:38 a.m.: Mitte says that Walter Jr. still loves his family and that he always cares about his parents – even if he's lost them already. He's grasping for whatever he can from them. He adds that he has spent his entire teenage life with Breaking Bad, as he will soon be turning 21, and he wouldn't be the same without the show.
11:40 a.m.: Norris loves Hank, who is saddled with a morality he can't get around. He's the one guy whose conscience won't allow him to do the wrong thing. He can lie about beating up Jesse and nearly getting his head cut off, but he's always trying to do the right thing. He puts on a mask of masculinity because of his job, but he loves the chances to show the emotional side of Hank. Cranston says that Norris puts on a mask of masculinity in real life too. "We all have masks."
11:41 a.m.: Odenkirk: "I'm a fan of Breaking Bad with a really good seat." He sees Saul as a sweet fella who is really good at the law, great taste in clothing and office architecture. He gives all of the credit to the writers and says that he doesn't improvise at all, despite his background in comedy. He sees the key to Saul as being that he's good at what he does. There are a lot of boobs on TV that are fun to laugh at, but in the case of this character he is funny and get stuff done.
11:44 a.m.: In terms of casting comedians like Cranston and Odenkirk in roles, Gilligan says that loves working with comedic geniuses like Bryan and Bob because comedy is harder to do than drama. You can't teach it – you have it or you don't.
11:46 a.m.: It's audience Q&A time!
11:47 a.m.: What is everyone's favorite iconic moment in the show? Cranston quotes, "I am the danger. I am the one who knocks." He sees the most impactful scene to be the one where Jane (Kristen Ritter) dies. Paul says, "Yeah Bitch! Magnets!" They also love the robot line
11:48 a.m.: A fan asks about the giant pizza that Walter threw on to the roof. Cranston says that they scored the pizza box so that the pizza would fly out when it was thrown, but they thought it was an impossible task. They just rolled with it, and they got it on the first take. Special effects guys were ready with filament, but it turned out to be unnecessary.
11:51 a.m.: Gilligan says that Mark Margolis was originally only supposed to only appear once, but they brought him back because they loved the character so much. He also adds that the character of Hank grew as he got to know Dean more.
11:53 a.m.: Audience member asks about how Walter actually poisoned Brock with the Lily of the Valley. Apparently in the timeline it was very close, but there was just enough time to make it realistic. Walter probably crushed up the plant, put it in a juice box, and then got into Brock's school to poison him.
11:55 a.m.: There is also an i-Book that is coming out called Breaking Bad: Alchemy that will update as the new episodes air. There are 350 or more interactive elements that link to interviews with the actors and behind the scenes video. It's available on the iBooks store.
11:57 a.m.: Was there a point in your character's history that you had a hard time adapting to? Dean says it was wearing the diaper and not being able to walk. Mitte says that there hasn't been anything he hasn't loved about it. Every once in a while, though, he wonders how Walter Jr. is still in the dark.
11:59 a.m.: Odenkirk says that Saul does everything right and has no problem with every move he's made – he's the most perfect character on the show. He felt emotion in the character when he told Jesse to go see Brock, which was a bit of a challenge. Gunn says at the beginning it was hard to understand Skyler because she is such a shrouded character, but Vince helped her realize the strength in the character. She now takes the information, processes it, and deals with it. Even in the most private moments she won't let herself break down. It's not that she didn't accept it, but just that she had to adjust to it.
12:01 p.m.: Paul says that it was Jesse shooting Gale, as it was where he took his evil to a new level. After the death of Jane he blamed himself, so all of season three he tried to convince himself he was the bad guy. At the end of season three he proves it by pulling the trigger.
12:03 p.m.: Cranston also cites the death of Jane. In the script it originally said that Walter pushed Jane's shoulder back to make sure that she would die – taking a direct act in her death. Studio notes suggested that they hold that back, as it was too early. On the day they decided that trying to wake up Jesse and shaking him was what pushed Jane back to the position that eventually killed her.
12:05 p.m.: Gilligan says that one of his proudest moments was in season one, episode four when Walt gets deus ex machine help from Gretchen and Elliot Schwartz. They throw him a life preserver and he says "No," and goes back to kicking meth. There was a lot of debate in the writer's room but they eventually settled on Walter's pride being strong enough.
12:08 p.m.: How does Anna Gunn feel about some fans seeing Skyler as a villain next to the "hero" Walt? She talked about it with the writers and was confused about it at first, but as the seasons went on she discovered that protagonists and antagonists need to exist, and that Walter is the anti-hero protagonist. Audiences needed to reject Skyler so that they could stay with Walter. She also says that it says something about the way people see men and women and husband and wife roles.
12:10 p.m.: Gilligan says that people don't like characters who are powerless, and Skyler finds herself in a box. It comes down to when she was trying to kick him out of the house, and Walt calls her bluff and is really unable to do anything when the cops show up.
12:12 p.m.: One last question before a clip! What is Walter's current motivation? Cranston says he's in the empire business and has never had this kind of power before. He has succumb to the power like an aphrodisiac and is now helpless. But it comes full circle when he realizes how much is enough, and comes around to put the pieces in his life back together.
12:12 p.m.: And now a chunk of footage from the new episode!
12:19 p.m.: They showed the whole pre-credits scene from the first episode from the first episode of the second half of the fifth season. Set after the events seen in the season five premiere, Walter is seen driving up to the White household, which has been totally abandoned. He walks through the house, which is totally empty and destroyed, and one wall spray painted with the name "HEISENBERG" on it. He goes to an outlet at the back of the house and unscrews it, taking out the poison that is hidden behind the outlet cover. As he returns to his car, he turns and sees that his old neighbor, Carol, is standing and staring at him in her driveway, holding a bag of groceries. They stare at one another and Carol drops her groceries. Right before the credits, Walter simply says, "Hi Carol."
12:20 p.m.: And that's the end of the Breaking Bad panel. Thanks for following!
Assistant Managing Editor
NJ native who calls LA home and lives in a Dreamatorium. A decade-plus CinemaBlend veteran who is endlessly enthusiastic about the career he's dreamt of since seventh grade.
Your Daily Blend of Entertainment News
Thank you for signing up to CinemaBlend. You will receive a verification email shortly.
There was a problem. Please refresh the page and try again.