Breaking In Beauty Odette Annable Joins House Cast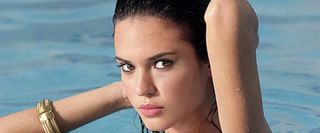 Didn't I tell you House was in need of a new female hottie? They've got her. Brunette beauty Odette Annable, who recently caught some attention in the mid-season comedy Breaking In will join the cast for the new season in a regular role, Deadline reports.
With the departure of Lisa Edelstein and Olivia Wilde's busy schedule putting her role on the back burner, the medical drama was left with a scripting problem as well as a cast of men who outnumber the female regulars in a big way. Annable's new role will help to even things out. Although there is little being revealed about how the new character will fit into the storyline, rumor has it Dr. House will meet her in prison, where he winds up after crashing his car into Cuddy's House in the seventh season finale. Hot female prison doctor? I did say House needed sex appeal, but that's not quite what I meant.
Word isn't in yet on whether or not Fox plans to pick up Breaking In for a second season, but Annable's contract for House does leave her room to reprise her role there should the network decide to go forward. As for House, the series is still in search of a replacement for Lisa Edelstein – Dr. House certainly can't be left to his own devices without a boss. Whether they will cast another woman in the role or switch things up by giving House a boss he can't hit on is yet to be seen. And the bigger question remains: can the cast changes give the show a much needed ratings boost?
Your Daily Blend of Entertainment News