Bryan Fuller's High Moon Pilot To Start Production At Syfy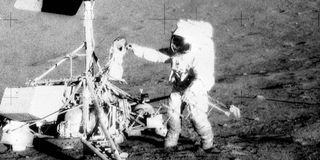 More news from Syfy today, this time on the scripted side. The network has announced that their pilot from Pushing Daisies' Bryan Fuller going into production. First announced last summer, High Moon is an adaptation of the John Christopher novel The Lotus Caves.
The story follows a group of people who have colonized the moon and seek to mine for its resources. In the process, they discover a new life form hidden there, which sets off a race to uncover its secrets. It's described as an "imaginative, ground-breaking story", and sounds like the right type of project for Fuller, whose most recent series is NBC's Hannibal. Jim Danger Gray, who has worked with Fuller on both Hannibal and Pushing Daisies is on board to write the pilot.
The Lotus Caves was first published in 1969, which means it has to have a view of space exploration that differs greatly from the way we see it today. It came out just after man first landed on the moon, so the idea of moon colonies may well have been a realistic one to many people. Of course, we have neither moon colonies nor Jetsons-style flying cars, but that past view of the potential future remains a fascinating and optimistic view. The story takes place in 2068, so there's still time to get those colonies going.
Syfy has branched out into plenty of genres over the years, with their recent winter lineup including supernatural and fantasy elements, but this project sounds like classic science fiction. With Bryan Fuller at the helm it will likely have a fresh feel in spite of its decades-old story. We'll keep you updated on any casting news for the pilot.
Your Daily Blend of Entertainment News
Thank you for signing up to CinemaBlend. You will receive a verification email shortly.
There was a problem. Please refresh the page and try again.