CBS Passes on Minnie Driver's Hail Mary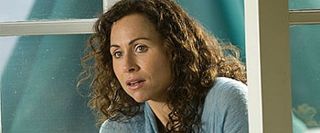 As you can see from CBS' new schedule (opens in new tab), the Minnie Driver pilot, Hail Mary, once thought to be a front-runner and all but "sure thing" to make the network's fall line-up, has not been picked up. Deadline (opens in new tab) reports that although Hail Mary "eventually lost momentum at the network [...] the project has been a favorite at producing studio Warner Bros. TV, and I hear that it is now being shopped around to other networks."
So there you have it. The show is dead, but not so dead that a resurrection on another network isn't possible in the near future. The show is about a suburban single mom (played by Driver) -- sounds like Weeds -- who, bored with her lot in life, teams up with a street-wise (hate that expression) hustler (played by Brandon T. Jackson of Big Momma's House 3 fame) to solve crimes. Kind of sounds like a boring and uncool Bored to Death. Why a single mom and a hustler a) would pair up to b) solve crimes is beyond me, and by the sounds of things, we just may never know...single tear.
To be fair, there are a lot of talented people behind this one, with stars like Driver and Jackson plus the amazing Stephen Tobolowsky (watch Californication). It was created by Jeff Wadlow, with the pilot directed by Brad Silberling. Joel Silver and Ilene Chaiken were also exec producers on the show. Who knows, television isn't a cut-throat business or anything, they may be able to find a home elsewhere.
Your Daily Blend of Entertainment News
Thank you for signing up to CinemaBlend. You will receive a verification email shortly.
There was a problem. Please refresh the page and try again.