The CW Picks Up Canadian Series The L.A. Complex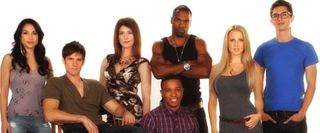 I don't know how one can hop from producing a series like Bored to Death to a drama about twentysomethings trying to make it in Los Angeles. I guess if anyone were going to do it, it would be producer Martin Gero, who worked on the later Stargate series before hopping to the incredibly different Bored to Death. Now, his newest project will be The L.A. Complex, a story about some small fish trying to make it in a big pond.
The L.A. Complex will follow Connor (Jonathon Patrick Moore), Abby (Cassie Steele), Nick (Joe Dinicol), Alicia (Chelan Simmons), and Tariq (Benjamin Charles Watson), a group of misfit performers -- including dancers, comedians, and musicians -- who live in the same apartment building. Each are trying to make it in Tinseltown, but each character is failing and succeeding at different levels.
The Canadian project is being produced by Epitome Pictures, the same company behind Degrassi. Likely because of The L.A. Complex's ensemble cast, melodramatic tone, and age demographic, it is garnering many comparisons to that teen soap. Which seems to be enough for The CW to promote The L.A. Complex as a big-ticket item within its summer programming schedule. According to Deadline, The CW is closing a deal to pick up the first six already-created episodes of the new series, which is set to begin airing in Canada next week. If all goes well, The CW might even pick up the rest of the first season and move forward from there. That's a whole bunch of "ifs," but if The L.A. Complex is anything like Degrassi, The CW should have no problem finding viewers.
Your Daily Blend of Entertainment News
Thank you for signing up to CinemaBlend. You will receive a verification email shortly.
There was a problem. Please refresh the page and try again.