The CW And Supernatural Creator To Adapt DC Comics' Deadman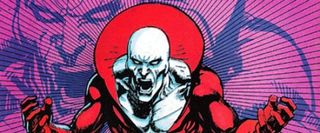 At the Television Critics Association event a few weeks back, the president of The CW Network stated the importance, with Smallville ending its 10-season run, of getting some fresh comic blood on the channel. It seems, with their intrinsic deal with DC Comics, they've mined the annals of their library to find the right fit for the network. And the right fit is, apparently, Deadman.
No, folks. The CW is not adapting the Jim Jarmusch/Johnny Depp acid western for the small screen. Deadman is a DC comic created by Carmine Infantino and Arnold Drake, and for those unfamiliar is very similar to the graphic novel/film The Crow, in that it follows a murdered man (Boston Brand) who returns to right some wrongs. The difference, and it's quite the hook, is that Brand returns in the bodies of others in crisis and then helps them resolve the conflict. It's a pretty cool idea for a graphic novel, but will it fly on TV? Especially on The CW?
Deadline first broke the news and returned to Pedowitz's quote from TCA 2011 when he said, "We're looking next year to do a superhero show if the right superhero comes to be." So, Deadman is the right superhero for the network, and in a smart move, they're tapping familiar talent, Supernatural's creator/showrunner Eric Kripke, to make this show a success. Deadline added that "getting Kripke to develop Deadman seems like a no-brainer as he is the man behind CW's longest-running scripted series on the air." Yes. A smart move indeed, but we'll still have to wait and see if it works out. Next up, casting the Deadman. Is Tom Welling busy?
Your Daily Blend of Entertainment News