Can You Guess Who These 13 TV Characters Are Dressed As For Halloween?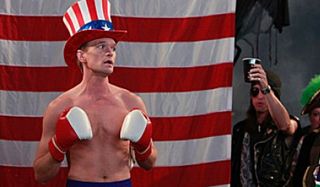 Halloween is just around the corner. Each year, some of our favorite programs bring us Halloween-themed episodes. Luckily enough, a good chunk of these episodes come with clever costumes. This year we've culled some of our favorite Halloween episodes of our favorite TV programs to bring you a quiz highlighting our favorite referential costumes.
Here's how the quiz works. We'll give you a still image, a show title, a character name, and a short hint. Figure out who each TV character is dressed as in your brain and click over to the next page to see if you're right. There are 13 total characters to name, so keep an eye out, because some of them are listed in the same picture. While you are answering, keep track of your score and let us know how you did in the poll at the end.
Good luck. If you end up crushing the quiz, we totally advocate sneaking some candy out of the Halloween bowl to celebrate.
START ROUND 1
TV Show: How I Met Your Mother
Character: Barney Stinson
Brief Hint About The Costume: The poor character Barney is dressed up as meets a pretty terrible fate. Also, he's black.
ROUND 1 ANSWER
Apollo Creed, Rocky IV
START ROUND 2 AND 3
TV Show: Parks and Recreation
Characters: Leslie Knope and Ben Wyatt
Brief Hint About The Costumes: The costumes match, and they also prove that Ben and Leslie are in True Love.
ROUND 2 AND 3 ANSWER
Westley and Buttercup, The Princess Bride
START ROUND 4
TV Show: Castle
Character: Richard Castle
Brief Hint About The Costume: In this scene, two shows collide.
ROUND 4 ANSWER
Space Cowboy, obviously Mal Reynolds, Firefly
START ROUND 5
TV Show: Freaks and Geeks
Character: Bill Haverchuck
Brief Hint About The Costume: He's supposed to be a famous TV character. Also, no one got the costume during the episode. We wish you better luck.
ROUND 5 ANSWER
Bionic Woman Jaime Sommer, The Bionic Woman
START ROUND 6
TV Show: Modern Family
Character: Haley Dunphy
Brief Hint About The Costume: This is a real-life cultural icon, who once famously met with Princess Diana.
ROUND 6 ANSWER
Mother Teresa
START ROUND 7
TV Show: Happy Endings
Character: Dave Rose
Brief Hint About The Costume: In Happy Endings, she's part of a marionette group, but in real-life this woman is a member of a famous family, although she did not have a wardrobe malfunction during a Super Bowl show.
ROUND 7 ANSWER
LaToya Jackson
START ROUND 8
TV Show: It's Always Sunny In Philadelphia
Character: Mac McDonald
Brief Hint About The Costume: This movie character doesn't fear death and is handy with multiple weapons. However, you can get the actor or the movie character, here. That's sort of the joke. Also, Dennis' Luigi is unrelated but awesome.
ROUND 8 ANSWER
Viggo Mortensen, otherwise known as Aragorn, The Lord of the Rings
START ROUND 9 And 10
TV Show: The Office
Characters: Kelly Kapoor and Kevin Malone
Brief Hints About The Costumes: She's a famous sci fi character that people get excited about dressing up as at Comic-Con. He's a famous movie character that is more recognizable with a Segway.
ROUND 9 AND 10 ANSWER
Paul Blart, Paul Blart: Mall Cop and Leeloo, The Fifth Element
START ROUND 11 AND 12
TV Show: Beverly Hills, 90210
Characters: Dylan McKay and Brenda Walsh
Brief Hints About The Costumes: These looks would be more efficient if they were riddled with bullet holes. Still better than Jay-Z and Beyonce, though.
ROUND 11 AND 12 ANSWER
Bank Robbers Bonnie & Clyde
START ROUND 13
TV Show: Community
Characters: Abed Nadir
Brief Hints About The Costumes: Probably one of the most on point costumes on this list, Abed is dressed like a famous movie monster.
ROUND 13 ANSWER
The Alien, Aliens
This poll is no longer available.
Your Daily Blend of Entertainment News
Reality TV fan with a pinch of Disney fairy dust thrown in. Theme park junkie. If you've created a rom-com I've probably watched it.