Celebrity Apprentice Power Rankings: Aubrey O'Day Makes Her Mark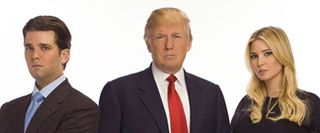 Celebrity Apprentice's third challenge really accentuated how far we still have to go in the game. This week proved Apprentice was still at the point where many women and many men were only acting on the sidelines, doing what they were told but never really contributing creatively. Some of these men and women might sneak up out of nowhere in the coming weeks and wow us with new skills and prowess, but for many of these contestants, it won't be long before Trump exhibits his firing skills.
One thing is for certain: Dee Snider does not look like he is on his way out. After breaking a finger during week two, Dee stuck around for the early rounds of the challenge, then headed to the doctor who surgically placed four pins into his hand. Most people would have given the guy a pass for this week's challenge, but Dee was having none of that and showed up just in time to unveil this week's project. Which was probably better for the women, anyway, since they were down two players after losing the first two challenges. Six women versus seven men looked a whole lot better than six versus eight.
Having multiple players proved a boon to this week's challenge, after Ivanka Trump revealed contestants would be unveiling her spring clothing line via window booths at a Lord & Taylor location. The two teams had to put together a concept for two window displays, as well as shop for clothing, paint and design the set, and figure out other minor details. Both teams split, with half of the members working on marketing and details, and half working on the actual window display sets.
After a challenge where the men did an acceptable job working with women's apparel, and the women came through after one of the team's design ideas failed, the boardroom was unusually amiable. Eventually the women, with Dayana at the helm, pulled through with the win. This left the men to nitpick, and eventually project manager George Takei opted to bring back Arsenio and Lou. Even though Arsenio was responsible for putting a trench coat on a model as an example of evening wear, he actually faded into the background after Lou and George went at it. George's biggest mistake was bringing back Lou when he had not even seen the man work after the team's split. Trump thought so, too, and in week 3, the project manager was fired for the first time.
The Celebrity Apprentice Power Rankings are an ordered compilation of weekly lists put together by TV Blend writers Jessica Grabert and Mack Rawden. Each week after viewing the episode, they each rank the competitors in order. Seventeen points are given for a first place vote, and this week, three were given for a last place vote. Three competitors have already been eliminated; therefore, those people automatically occupy the bottom slots. Here is how this week's voting panned out, complete with analysis on how the celebrities might fare moving forward.
The Favorites
#1) Penn Jillette (34): Penn is so professional in the boardroom. There are several other contestants that can more than hold their own in front of Trump, but Jillette strikes me as the only one who could capably fill in for Ivanka or Don Jr. on a future season. That's high praise, but from everything we've seen thus far, it is well deserved. Penn has easily been the best project manager thus far this season, and apart from Paul Sr.'s signs, his idea to use twins was the most appreciated aspect of the men's presentation last night.
#2) Dee Snider (30): Despite a broken appendage and despite Arsenio whining about how Dee is not really going to be able to compete, there are multiple ways for a team member to insert his or herself into a task, as long as a player is willing and creative. Sure a broken finger and a hand cast are major annoyances. No one would have faulted Dee if he had decided to bail. However, Dee really wants to be in this competition. His willingness to pitch in when injured and his desire to make his mark have not gone unnoticed on Celebrity Apprentice.
#2) Adam Carolla (30): Adam Carolla busted out some building skills this week when Celebrity Apprentice required construction in its window displays. Despite missing last week's challenge, Adam proved to be a phenomenal presence this week, speaking up creatively, doing a lot of interview asides, and generally working hard on the constructive aspects of the task. While Adam is still untried as a leader, he has certainly led the team in TV minutes. That presence alone should be enough to keep him in for a long while.
#4) Patricia Velasquez (27): Patricia hasn't been a powerhouse this season as much as a consistent and solid contributor. Her hard work and stability have helped the women immensely, and despite losing as project manager to Paul, she more than held her own. This week, she was mostly relegated to background details. Considering she was a model and worked extensively in creating images in the past, that willingness to defer was probably difficult; so, she should be given a lot of credit for putting the team ahead of herself.
#4) Debbie Gibson (27): Debbie has really proved to be a team player. She really works to the best of her ability and chooses what battles to fight and when to leave well enough alone. Her one downfall may be her disinterest in taking a chance to lead as project manager. Maybe she is just waiting for the right challenge, but if she stays in the background much longer, she might flail a little in these rankings. Still, with the skills she has shown so far, we expect her to be adept at leading; she just needs to prove herself.
#6) Aubrey O'Day (26): Who knew Aubrey O'Day was such a champion at brainstorming? For the past few weeks, she has thrown out numerous good ideas, and her quick thinking definitely saved the girls from disaster with their window display. All too often celebrities on Apprentice are unwilling to offer clear direction when they are not project manager out of fear it will be used against them in the boardroom. O'Day hasn't shown any reserve thus far, and if she proves as capable of a leader as she is an active team member, she'll be around for a long time.
The Contenders
#7) Paul Teutul, Sr. (21): The signs Paul Sr. commissioned his shop to make were the single best thing either team offered this week. The fact Ivanka wants to buy them for her store displays speaks to that, as does the glowing praise he received in the boardroom. He might have had a few missteps as project manager, but he still won and clearly is held in high regard by the men's team. Like Lou and Adam, Paul Sr. is also a worker bee, which should save him if he's brought back into the boardroom in the future.
#8) Michael Andretti (20): Michael Andretti worked hard with the building aspect of the challenge this week, taking a backseat to Paul and Adam's leadership, but not getting in the way like Lou. As Adam himself put it, Andretti is the typical racecar driver. He lays low, but could very well swoop in and take the lead at the last moment. I don't know if this will be a winning race for Andretti, but it will certainly be interesting to watch.
#9) Teresa Giudice (17): Prior to this challenge, I was impressed with how well Teresa was able to dutifully contribute. The first two weeks, she didn't cause a shred of drama and aided her team wherever it was needed. Unfortunately, this week she desperately wanted to be project manager, and when her team chose Dayana, I think her irritation showed a bit in performance. Some snide comments were made to the cameras, and she clearly wasn't convinced her project manager could lead the team. That being said, when it came down to it, she still got out there and busted her ass. It may not have been the perfect way to handle it, but it was manageable enough to keep her from sliding down the rankings.
#9) Clay Aiken (17): Clay Aiken is clearly a competent worker and has proven so by contributing each and every week. Unfortunately, thus far, he has lacked the people skills necessary to win Celebrity Apprentice. This week, when asked how the project manager was doing, Aiken just giggled and then gave a cagey answer. He did this awkward, unfair behavior thing twice during the show. Contestants have to dish out criticisms carefully, they have to give respect to earn respect, and they have to act like they are part of the team. Aiken's got the last part down, but the jury's still out on the other aspects.
#11) Arsenio Hall (14): Arsenio Hall took a bit of a tumble this week because he couldn't pick out clothes as well as the women. In all fairness, I don't think anyone expected him to be able to do that, but unfortunately, his shortcomings were one of the main reasons why the men lost. The outfits just weren't formal enough, and that was entirely his department. With a different challenge next week, I'd expect him to climb back up a bit in the rankings. He's definitely bright enough and determined enough to go a long way, but another major mistake like the bad clothes could wind up sending him home.
The Dark Horses
#12) Dayana Mendoza (12): As the first female project manager to win this season, it really is a huge slap in the face for Dayana to have landed this low on the rankings. Unfortunately, she is here, due to sucking as project manager. She did not delegate, and she was not a creative force, turning over that responsibility to Aubrey. At one point, Dayana even lamented about project manager being harder than expected. Fucking duh. You can't move up in the rankings by looking hot in a window display, even if that is your primary skill.
#13) Lisa Lampanelli (10): Lisa's position here is carryover from her less than impressive run as project manager. If past performances didn't matter, she'd be far higher, but it's impossible to forget the mess she made last week. Still, it's very clear the women have a healthy respect for her, and over the next few episodes, she should continue to be a strong player on the women's team, especially if there's a writing challenge. She's very good with words and willing to put in long hours. The former isn't something the women seem to have an abundance of; so, look for her to be an MVP at some point in the future.
#13) Lou Ferrigno (10): The reason why Lou is ranked this low is the same reason why he's a successful human being. He's just too damn eager to help. When the men were making their set, Adam and Paul Sr. took the lead considering their extensive background in building things. Lou did his damndest to contribute, but there just wasn't any room. It should be noted though that he was all over the fact that their colors were wrong and really did try to change it. I really hope the Hulk finds his stride at some point, but without a solid performance next week, he could find himself in the boardroom again.
#15) Tia Carrere (6): Poor Tia has ended up last every week in the power rankings. I would love to move her up. She seems like a team player and she seems genuinely excited to be participating. However, she is the weak link on the women's team. She slides by every week by doing this or that and not really standing out for any reason. While I do applaud her for working on her speaking skills when talking to Trump in the boardroom, she has a long way to go if she is going to prove she is an able leader.
Here's a look at how the ballots shook out…
Jessica
Penn Jillette (17)
Patricia Velasquez (16)
Dee Snider (15)
Adam Carolla (14)
Aubrey O'Day (13)
Debbie Gibson (12)
Michael Andretti (11)
Clay Aiken (10)
Paul Teutul sr. (9)
Dayana Mendoza (8)
Teresa Giudice (7)
Arsenio Hall (6)
Lisa Lampanelli (5)
Lou Ferrigno (4)
Tia Carrere (3)
Mack
Penn Jillette(17)
Adam Carolla (16)
Debbie Gibson(15)
Dee Snider(14)
Aubrey O'Day (13)
Paul Teutul Sr (12)
Patricia Velasquez(11)
Teresa Giudice (10)
Michael Andretti(9)
Arsenio Hall(8)
Clay Aiken(7)
Lou Ferrigno (6)
Lisa Lampanelli (5)
Dayana Mendoza(4)
Tia Carrere(3)
Enthusiastic about Clue, case-of-the-week mysteries, the NBA and cookies at Disney World. Less enthusiastic about the pricing structure of cable, loud noises and Tuesdays.
Your Daily Blend of Entertainment News
Thank you for signing up to CinemaBlend. You will receive a verification email shortly.
There was a problem. Please refresh the page and try again.