Chris Noth To Narrate ID Crime Series I Didn't Do It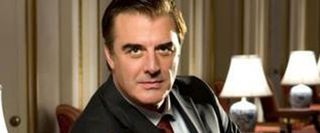 Veteran television actor Chris Noth has been in his share of criminal dramas, including a gig with Law and Order way back in the nineties. Nowadays, he appears on CBS' The Good Wife, looking at crime from a very different perspective as prosecuting attorney Peter Florrick on the acclaimed show. In the past the actor has never done any voiceover narration for a real-life crime series, but jumping into that world seems pretty fitting.
Noth is set to narrate a future Canadian crime series called I Didn't Do It. The series will follow wrongful convictions in criminal systems, and will air in Canada as well as in the United States. In the States, popular Discovery Communications channel Investigation Discovery (ID) will air the program. I Didn't Do It sounds like a lot of ID's other fodder, with reenactments, narration, and interviews with the police and suspects involved with the case used to tell the story. The big difference the upcoming show seems to have is the angle the person accused is innocent, which also means other potential persons of interest will be looked at with more of a meticulous eye.
According to THR, Noth is set to be featured in the first six episodes of the show, but if the series is successful, I wonder if he will stick around for a longer bout. At any rate, I Didn't Do It should provide the 57-year-old actor with something to do during his time off from primetime network television.
Your Daily Blend of Entertainment News
Thank you for signing up to CinemaBlend. You will receive a verification email shortly.
There was a problem. Please refresh the page and try again.