Christina Ricci Exits NBC's Pilot Girlfriend In A Coma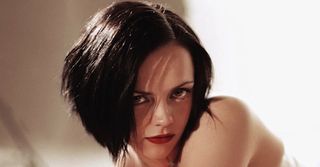 Looks like Christina Ricci won't have to be in a coma after all. She is exiting the NBC pilot for Girlfriend in a Coma, in which she was set to play the leading role, apparently after the table read. I'd like to think she just left because the show's title is too awful to bear.
Ricci was the first cast member to come on board the project back in February. She signed on to play the role of Karen, a woman who has been in a coma for seventeen years and wakes to discover she has a teenage daughter she didn't know about. iCarly star Miranda Cosgrove is set to play the daughter, Evie, whose overachieving ways are thrown into chaos when her mother suddenly wakes up. I had thought the two might make a good mother-daughter pair, but now Deadline says the part will be re-cast in the wake of Ricci's decision to drop out.
Ricci came on board the comedy project on the heels of her failed ABC show Pan Am, which was cancelled after just one season and low ratings. She went on to a guest starring role in The Good Wife, and has been busy on the big screen in films like Around the Block and the upcoming Mother's Day with Susan Sarandon and Sharon Stone.
Girlfriend in a Coma is based on the book by Douglas Coupland and comes from Nurse Jackie's Liz Brixius. With Ricci out, the will need to find another talent who can make us all see past the awful title.
Your Daily Blend of Entertainment News
Thank you for signing up to CinemaBlend. You will receive a verification email shortly.
There was a problem. Please refresh the page and try again.