This New Christmas Commercial Is Emotionally Devastating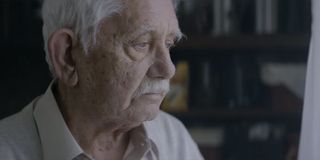 Every year around this time, companies around the world produce holiday-themed ads meant to amuse buyers and sometimes to even pull at their heartstrings. Recently, German grocer Edeka took that a step further by producing the most emotionally devastating holiday ad we've ever seen. I can't stress enough how sad this ad is. The ad's in German, but there are subtitles in English, and you can catch the whole thing, below.
Each year, the father and grandfather who stars in this commercial waits near his phone around the holidays, hoping to hear that at least one of his busy children will be able to make the long trek home for Christmas. Unfortunately, we only hear one of his grown children decline via an answering machine, as her children play merrily in the background. Then, the ad cuts to shots of the man year after year, eating his Christmas dinner alone. Yeah, it's depressing. And it only goes downhill from here.
Then, one year, also around the holiday, the family members of the elderly gentleman are shown getting calls and letters. It's hard to tell at first what is going on, but their upset faces soon make it clear that the man has died and they'll have to travel home for the funeral. The whole goal of the promo is to remind Edeka customers and others to spend time with their loved ones around the holidays, but it is truly and wholly a sad watch, at least throughout most of the video.
If you haven't watched the commercial yet, we won't ruin the ending for you, but there is a twist at the end that's completely messed up and makes me a little furious at Edeka, although I'm unsure how else the company could have really ended this one. Whatever you think of it, this ad is well worth a watch.
It's also very reminiscent of British company John Lewis' ad this holiday season, which features a little girl attempting to get a gift to the man on the moon, so that he can share the holidays. That one's a little less over-the-top and a whole lot more sentimental, but the message is generally the same.
We'll be bringing you more holiday ads as they continue to be released, so if you feel like watching wacky holiday shenanigans and maybe even crying at an ad or two, do stay tuned. Oh, and happy holidays. Now that Thanksgiving has passed, I feel less creepy saying it.
Your Daily Blend of Entertainment News
Reality TV fan with a pinch of Disney fairy dust thrown in. Theme park junkie. If you've created a rom-com I've probably watched it.
Your Daily Blend of Entertainment News
Thank you for signing up to CinemaBlend. You will receive a verification email shortly.
There was a problem. Please refresh the page and try again.