Christopher Guest Turns To TV For Family Tree And Casts Chris O'Dowd To Star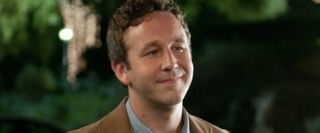 Even though the last work we saw from Christopher Guest was the less-than-inspired 'focus group sketch' at last year's Academy Awards (not to mention it's been almost six years since the release of his last feature film, For Your Consideration), Vulture's announcement of the comedy genius' behind This Is Spinal Tap's plans for a television series is still pretty exciting. Let's face it, nothing at last year's Academy Awards was particularly exciting, except, perhaps, for the Bridesmaids ladies having fun and strutting their stuff. Speaking of Bridesmaids, one of the stars of Paul Feig's female comedy has been tapped to star in the Guest and frequent collaborator Jim Piddock's Family Tree, but it's not any of the aforementioned strutting ladies.
I guess Guest and (Brit) Piddock were too busy watching Chris O'Dowd steal the show (or to keep with the awards theme, kill it as host of the 2011 British Independent Film Awards). Coming off the success of the hilarious British television series The IT Crowd, O'Dowd has found himself cast in increasingly larger roles and projects, and can soon be seen in Judd Apatow's This is 40. For Family Tree, described as 'an improvised genealogy comedy,' the comedy actor will play a man in search of his real family. The article also mentions Guest's curious heritage since the fact that the writer-director's lineage leads back to British Royalty could very well provide fodder for the loosely structured potential series.
A half hour, single camera comedy, Guest and Piddock want to make Family Tree both largely improvised and commercial-free, mentioning Larry David's Curb Your Enthusiasm as an inspiration. To me it sounds as if the pair are looking to David's HBO hit for stylistic and creative cues rather than tonal, as Guest's comedy is a lot, uh, zanier than Curb's more abrasive assault. That doesn't mean the freedom born from the lack of restrictions (which would hinder any R-rated improvisation) isn't also heavily playing into the decision as NBCUniversal International Television is shopping the project to networks like HBO, Showtime and Netflix. Personally, I'm stoked to hear that Guest is not only returning to work but that he's doing so on the small screen and potentially with a partner like HBO. O'Dowd is also a well chosen and deserving pick for the lead since the rising star's charm should mix well with Guest's quirks. What do you think?
Your Daily Blend of Entertainment News