The Clicker Decks The Halls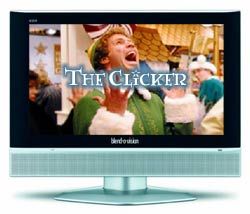 It's December and for many people, that means shopping, eating, decorating for one holiday or another and spending excessive time with the family. TV shows go into hibernation around this time of year, leaving us to scrounge for reruns or settle for one or two of the rare shows that don't go on break. While there are plenty of people who roll their eyes or throw their hands up in exasperation at the whole "over-commercialized holiday culture" in this country, I am not one of them. I like shopping and baking and Christmas songs and I love Christmas movies!
I love old Christmas movies. I love new Christmas movies. I love horrible made-for-TV-Hallmark-Channel movies with ridiculously sappy plots that always end with some sort of "Christmas Miracle" saving the day. For one month out of the year, I can't get enough of them. Luckily for me (and anyone out there like me), the networks love to pack their line-ups with these movies.
ABC Family is doing their "25 Days of Christmas" which means that from now until Christmas, they'll be airing holiday movies ranging from big screen films like Dr. Seuss's How The Grinch Stole Christmas to not-quite-classics like 'Rudolph and the Island of Misfit Toys'. They've also thrown in family classics that aren't really Christmas movies like the first three Harry Potter films, Mary Poppins and Life Is Beautiful.
I would like to be able to say that ABC Family's Holiday lineup is perfect but to be honest, for every one movie on their list that's a must-see holiday classic, there are four that probably aren't worth watching. For example, I didn't even know they made a Home Alone IV but apparently it exists and ABC Family's got it on the list.
So in addition to reviewing ABC Family's schedule, I've also taken a look at what Tvguide.com has listed and here are some holiday movies set to air over the next couple of weeks. Before I get into that though, I would like to mention that one of my favorite movies of all time, It's A Wonderful Life isn't on the list but only because that doesn't usually air until closer to Christmas. There are some other great holiday films that I'm leaving out but again, this is based on the listings for the next couple of weeks.
Set your DVR's for some of these great holiday movies:
Miracle on 34th street - The original one, not the remake. The remake was ok but the cuteness of the little lispy girl from Mrs. Doubtfire wore off years ago. I love the old version because, well, it's a classic and it didn't need the remake. If you've never seen it (this seems impossible), the movie is about a woman and her cynical daughter and their experience meeting the real Santa Claus. Kringle himself arrives in New York and charms his way into their hearts, teaching them that sometimes its ok to believe. Awwww. Airing on AMC: Monday, Dec, 04 08:00 PM; Monday, Dec, 04 10:00 PM; Tuesday, Dec, 05 08:00 PM
Scrooged - I'm not a huge fan of Dicken's "A Christmas Carol". Its dark and gloomy and in many ways, the opposite of It's A Wonderful Life. While Life is the celebration of a man who lived a small life but had a hugely positive impact on pretty much everyone who knew him, "A Christmas Carol" tells the story of a man who wastes almost his entire life being selfish and greedy. Sure he redeems himself at the end and this is admirable but it just doesn't offer the same uplifting holiday magic that It's A Wonderful Life does. That being said, the Bill Murray version of the holiday classic is one exception to my disinterest in "A Christmas Carol" (the other being A Muppet Christmas Carol). The movie is a modern day take on the story in which Bill Murray plays a greedy TV exec who gets to go through the whole Ghost-of-Christmas-past/present/future spiel to make him realize if he doesn't start being nice to people, he's going to die alone and forgotten. Its Bill Murray therefore, its great. Airing on ABC Family: Sun, Dec 10 2pm/1c Sat; Dec 16 10am/9c Sat; Dec 23 12am/11c
Rudolph the Red-Nosed Reindeer - "I'm cute!!!!!" Another must-watch of the holiday season. Rudolph's nose is red and thus, he is an outcast among his reindeer peers but in this classic movie, Rudolph goes from Freak to Sheik as he guides Santa's sleigh and saves Christmas, proving that even if you have some freakish birth defect that causes your nose to glow, you can still become popular by using it to help Santa out of a jam. Airing on CBS: Fri, Dec 8 8:00 PM
Frosty the Snowman – based on the song of the same name, this animated classic from the 60's never seems to get old. Frosty comes to be when a little girl puts a magician's top hat on the head of her snowman. I have a very vivid memory of crying during this movie when Frosty "begins to melt away." but the story managed to redeem itself with Santa's help. Airing on CBS: 12/8 at 9
Dr. Seuss' How the Grinch Stole Christmas - This is the film version, not the animated version (which will no doubt be on but it hasn't appeared in the listings yet). Jim Carrey does a pretty great job of bringing his goofy demeanor to the film as the Grinch. The town of Whoville is brought to life in all its silly lopsided glory. – Airing on ABC Famiy: Sun, Dec 17 5:30pm/4:30c; Sun, Dec 17 8pm/7c; Thu, Dec 21 8pm/7c; Thu, Dec 21 10pm/9c
A Mom For Christmas - You know how when you were a kid you always dreamed that a store mannequin would come to life as Olivia Newton John and be your mom? Yeah, me neither but this is one of those made-for-TV holiday movies that I just cant help watching. Airing on ABC Family: Sun, Dec 10 10am/9c; Sat, Dec 23 1pm/12c
Santa Claus: The Movie – It tells the tale of how Santa Claus came to be. The story evolves into something else at the halfway point and then it's about an elf named Patch (played by Dudley Moore) who loses his job as head elf when his toy-making machine malfunctions and produces shoddy toys. Patch goes to America and gets involved with an evil Toy manufacturer (played by John Lithgow) and the two produce magic lollipops that can make people float. I loved this movie as a kid but watching it as an adult, I'm bit creeped out by it. Sure exploding candy canes and John Lithgow can be creepy but I find myself more disturbed by some of the other scenes, like the old lady who licks the lollipop and floats (something about the noise she makes when she floats just gives me the shivers) or the strange slap-fight the ballerinas have when one of the girls insults Santa Claus. Creepy or not, its still a great Christmas movie. Airing on ABC Family: Sun, Dec 10 12pm/11c
National Lampoon's Christmas Vacation – Clark Griswald always wants every family experience to be perfect but unfortunately for him (and hilariously for us), they never are. Whether its Eddie's too-tight pants (look close enough and you'll see more of Randy Quaid then you ever wanted to), the squirrel in the tree, Julia Louise Dreyfuss's hilarious yuppie-portrayal or seeing a family-man go off the deep end when he learns his Christmas bonus is an enrollment in the jelly-of-the-month club, this movie was a Christmas classic the moment it premiered on the big screen. Airing on BRAVO: Tuesday, Dec, 12 08:00 PM; Tuesday, Dec, 12 10:00 PM BRAVO 70
Elf - Another movie that was an instant classic, directed by Jon Favreau and starring the great Will Ferrell, this movie is all about the Christmas spirit. Ferrel as Buddy-the-Elf travels to New York City to find his biological father, a grumpy childrens book editor. In the process, he meets a girl and falls in love. It's funny, its family-friendly and it makes me cry at the end every time I watch it. Airing on USA: Tuesday, Dec, 12 09:00 PM; Wednesday, Dec, 13 04:00 PM
The Santa Clause – When Santa Claus falls off the roof of divorced toy exec, Scott Calvin's (played by Tim Allen) home, Calvin assumes the role of the big guy. Becoming Santa Claus proves to be quite the challenge for Calvin, who doesn't have the same enthusiasm for the role that his son does. It's a surprisingly good movie that has had two sequels (the third Santa Clause movie is currently in theaters). Airing on DISNEY: Saturday, Dec, 16 09:00 PM
So that about covers it as far as movies that will be airing on TV within the next couple of weeks. I'm hoping to see The Ref show up in the listings some time this holiday season (maybe on Comedy Central) and I expect TBS to have their annual A Christmas Story marathon on Christmas Eve (though it hasn't been officially announced yet). Feel free to comment if I left out any of your favorite Christmas movies!
What to Watch (12/03 to 12/09)
"The Amazing Race" (CBS) 8:00 pm
Dude, I'm Such A Hot Giant Chick Right Now!- (New!) – The Beauty Queens are marked for elimination. Will they be able to make first place in this leg of the race? If not they'll suffer a 30 minute penalty which could result in their elimination.
A Dad For Christmas (Lifetime) 9:00 pm
The sequel to "A Mom For Christmas,", you ask? No. This movie is about a teenager who takes his newborn brother and flees to his grandmother's house in the hopes of keeping his mom from letting someone adopt the baby. This is what you get when you combine Christmas with the Lifetime channel.
Miracle on 34th Street (AMC) 8:00 pm
I like the part where Santa Claus speaks Dutch.
"Heroes" (NBC) 9:00 pm
Fallout- (New!) – The fall finale of the hit new show. Last week we got to peak six months into the past to see how some of the heroes learned about their powers. In this episode, we're brought back to the present for one last episode before the show goes on break until January.
"Studio 60 on the Sunset Strip" (NBC) 10:00 pm
The Christmas Show- (New!) – In this very special Christmas episode of 'Studio 60', the writers put together a very special Christmas episode of 'Studio 60'.
"Friday Night Lights" (NBC) 8:00 pm
Full Hearts – (New!) – This show is one of my guilty pleasures this season. It's a good mix of sports and teen drama. In this episode, rumors start to fly about Lyla and Tim's brief-but-steamy affair.
"Santa Claus Is Coming To Town" (ABC) 8:00 pm
(Special!) – This is the 70's animated classic is about the origins of Santa Claus. I don't place it as high on my list as Rudolph or Frosty but its still worth watching if you're not into the whole football-drama thing.
Jack Frost(Hallmark) 9:00 pm
The spirit of a kid's dad (played by Michael Keaton) whose name happens to be Jack Frost, inhabits the body of a snowman.
"Ugly Betty" (ABC) 8:00 pm
Pilot- (repeat) – I've taken to watching 'Ugly Betty' on ABC.com because my TiVo is busy recording 'Smallville,' 'The Office,' and 'My Name is Earl' at 8 o'clock on Thursdays. If you haven't checked out the show yet, watch the pilot this Thursday! It really is as funny and charming as everyone says it is.
"Scrubs" (NBC) 9:00 pm
My Best Friend's Baby's Baby and My Baby's Baby (New!) – Carla goes into labor!
"30 Rock" (NBC) 9:30 pm
Tracy Does Conan- (New!) – Tracy gets Jenna's spot as a guest on 'Late Night With Conan O'Brian'. Tracy picked a bad time to go off his meds.
Rudolph The Red-Nosed Reindeer (CBS) 8:00 pm
(special!) He had a very shiny nose.
HoliDaze: The Christmas That Almost Didn't Happen (ABC) 8:00 pm
In this new one-hour animated Christmas film, Rusty Reindeer and a bunch of other depressed holiday icons search for the meaning of Christmas. A new Christmas classic? Probably not but it's worth a look.
__________________________________________
Do you an idea for a column or just something to say? Scroll down and leave a comment!
Kelly joined CinemaBlend as a freelance TV news writer in 2006 and went on to serve as the site's TV Editor before moving over to other roles on the site. At present, she's an Assistant Managing Editor who spends much of her time brainstorming and editing feature content on the site.
Your Daily Blend of Entertainment News
Thank you for signing up to CinemaBlend. You will receive a verification email shortly.
There was a problem. Please refresh the page and try again.