Cobie Smulders' Maria Hill Will Drop By Agents Of S.H.I.E.L.D. This Month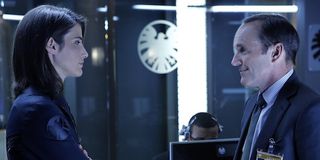 At this point, Agents of S.H.I.E.L.D. has the potential to get really good, especially as it relates to its tie-ins with the bigger Marvel picture. Last night's episode was evidence of that, and the announcement that Cobie Smulders is set to return to the series as Agent Maria Hill is an indication that the latest uprising isn't the only connection we'll be seeing to the Marvel films.
TVLine reports that Smulders is set to appear on Agents of S.H.I.E.L.D in the April 29 episode of the series. She's also going to be back on the show to play "a large role in the May sweeps episode." The site goes on to say that "those who have clamored for a Coulson/Hill team-up will get it" and we should expect some serious action. Presumably, the thrills-kind.
Smulders appeared in the S.H.I.E.L.D. pilot, so her upcoming appearances isn't the debut of Maria Hill in the ABC drama, but after the events of last night's episode and Captain America: The Winter Soldier, it feels like a much bigger deal.
SPOILER ALERT
Here's where I get into spoiler talk about Captain America: The Winter Soldier, so if you haven't seen the movie, consider yourself very spoiler warned from this point forward!
Maria Hill popped up a couple of times in Winter Soldier, mainly involved in Nick Fury's part of the story. And right now, Coulson and his team think Fury has been killed by the Hydra people. We know otherwise. TVLine's article reminds us that Samuel L. Jackson is set to appear on Agents of S.H.I.E.L.D. for the finale on May 13, but I'm assuming Coulson will have an update on Fury's situation by then, unless for some reason Hill doesn't fill him in during one of her appearances.
When we last saw Hill in Winter Soldier, it was looking like she was preparing to join up with Tony Stark's company. I suppose if she's looking for a place where she'd be with people she trusts and could apply her skills somewhere useful, that might be the place to do it. Or maybe Fury wants her there to keep an eye on things and make sure Hydra hasn't worked its way into Stark Industries. That would be pretty devastating, given the weapon access that place has.
Which brings us around to the S.H.I.E.L.D. speculation. We can assume that Hill's arrival will tie in with this Hydra mess, but might it also tie in to Stark Industries somehow? Because if S.H.I.E.L.D. were looking for a way to lure in as many Marvel fans as possible, teasing an episode that involves Tony Stark/Iron Man or even something related to that -- because I don't even want to get too optimistic that Tony Stark himself would drop in for a surprise appearance -- might do the trick.
It may be too optimistic to hope that Hill's involvement in the episode is linked to Stark Industries as opposed to just* Nick Fury, but hopefully not.
*Nick Fury is awesome. But the Stark Industries tie-in might give us a bigger clue as to why Hill was there at the end of Winter Soldier, which would be a great follow-up.
In the meantime, despite the massive box office haul Captain America: The Winter Soldier took in, popularity of the film didn't translate to better ratings for Agents of S.H.I.E.L.D.. Deadline says the series hit a new low, dropping 15% among adults 18-49 from last Tuesday's episode to this week's. I'm wondering if that's an issue of people avoiding the episode because they haven't seen Captain America: The Winter Soldier yet, or if the movie's game-changing plot simply wasn't enough to get people to tune in to see how the dismantling of S.H.I.E.L.D. would affect a series literally titled after that very organization.
Either way, it's disappointing. Last night's episode was awesome. But ABC will be re-airing it next Tuesday night during S.H.I.E.L.D.'s usual 8:00 p.m. timeslot, after which they'll air "Providence" at 9:00 p.m. Et. Watch the preview here.
Your Daily Blend of Entertainment News
Assistant Managing Editor
Kelly joined CinemaBlend as a freelance TV news writer in 2006 and went on to serve as the site's TV Editor before moving over to other roles on the site. At present, she's an Assistant Managing Editor who spends much of her time brainstorming and editing feature content on the site.