Comedy Central's Key & Peele: A Joke-Off With The Doctor, And Key Appears On Conan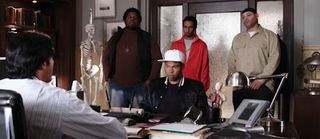 Last night, Comedy Central aired another new episode of the new sketch comedy series Key & Peele. In case you haven't checked out this promising new series, we have one of the featured sketches from last night's episode for you to watch. Also worth a look is Key's appearance on last night's Conan.
Key & Peele stars Keegan-Michael Key and Jordan Peele, two men who perform in various funny sketches and dow a bit of stand-up together in between. The second episode of the series aired last night. Below is a clip featuring one of the sketches, which turns a man's meeting with his mother's doctor into a series of disparaging mother jokes.
Key and Peele
Watching the above sketch, I can't help but wonder how they came up with the idea to combine mother-jokes with a doctor's visit, but it works and the unpredictable punchline hits the mark. Keegan-Michael Key did talk about coming up with the idea for the Obama sketch featured in last week's series premiere, when he appeared on last night's Conan. Check out part of his interview below...
Key & Peele airs Tuesdays at 10:30 p.m. ET on Comedy Central.
Watch the full series premiere episode online here.
Your Daily Blend of Entertainment News
Your Daily Blend of Entertainment News
Thank you for signing up to CinemaBlend. You will receive a verification email shortly.
There was a problem. Please refresh the page and try again.