Community Season 4 Review: Senior Year Begins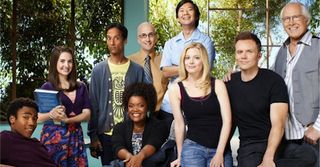 At last, October 19th is nearly upon us. And by "October 19th," I mean February 7, which is the re-scheduled date for the fourth season premiere of Community. Fans of the series have been anticipating this day for months (and then a few more months after that). We cheered when they renewed it and gasped when we learned that series creator Dan Harmon would no longer be the showrunner. We cringed when they told us the comedy was being moved to Fridays in the fall. We cringed again when we saw that it was being paired with Whitney, a show with which it has very little in common. Writers David Guarascio and Moses Port were set as the new showrunners and some of the other writers left.
Fall arrived, and just when we were within sight of October 19th, the comedy was pulled from NBC's schedule. Cringe again. But then, some good news (kind of): Community would return to Thursdays, but we have to wait until February, after 30 Rock wraps up. Also, it's still on against the ratings vortex that is The Big Bang Theory, which means - pardon my pessimism - we probably shouldn't expect a noticeable increase in viewers. The timeline has its dark spots, but if we wanted to take an optimistic approach we might say that this one may have been the only timeline that allowed Community to return at all. And if that's the case, we'll take it.
The anticipation of the series' return was mind-bending enough to make me want to crawl into Troy and Abed's Dreamatorium and visit an elsewhere/time until I could watch the premiere. I have now seen the premiere and I've also seen the third episode of the season. NBC didn't send the second, but since the third episode has to do with Inspector Spacetime, I sort of approve of their choice to jump reviewers into the future by one episode, leaving us to wait with everyone else to see how the Season 4 premiere cliffhanger picks up. Yes! A cliffhanger! I won't spoil that with specifics, though there is a clue buried somewhere in the recent trailer, for those of you who don't want to wait.
At this point, I'll offer you the mildest of spoiler warnings. I have no intention of giving up the best moments the premiere has to offer, so if you're spoiler shy, rest assured, I'll treat this review delicately. With that said, some basic plot and character developments will be mentioned.
"History 101" is split between Jeff's (Joel McHale) determination to win a spot in the sole history class available that semester, and Abed (Danny Pudi) trying to mentally process the fact that this is the study group's last first day of school. That split is made particularly apparent by the fact that Abed's attempts to come to grips with reality takes him a bit further away from reality, which - as you probably know - is where Abed shines brightest. Look forward to that. Meanwhile, the Dean (Jim Rash) has set up a very Dean-focused competition in the style of a very popular movie from last year, only with more balls involved.
The first episode of the season re-introduces us to the characters, treading into familiar territory with new shenanigans. Shirley (Yvette Nicole Brown) and Annie (Alison Brie) are teamed up for a mission Annie sets upon in anticipation of her senior year. And Troy (Donald Glover) and Britta (Gillian Jacobs) have a disagreement that gets out of hand. Pierce (Chevy Chase) is set aside, trapped in his own thoughts in a less literal way than Abed. With the characters somewhat split up or paired off, there isn't a lot of time to focus on anyone in particular, but there are some great jokes, and as I mentioned, the episode works as a re-introduction to the group as they embark upon their final year at Greendale Community College.
"Conventions of Space and Time" includes guest appearances by Matt Lucas (Little Britain, Bridesmaids) and Tricia Helfer (Battlestar Galactica) and takes the group out of school entirely, as Troy and Abed go to the Inspector Spacetime convention to celebrate their love of the Doctor Who-like sci-fi series. They're joined by the rest of the study group, though - as you can imagine - not everyone fits in nearly as well as they do. But each of the characters finds something to do there. Shirley and Pierce's arc is funny, but Annie's adventures may be my favorite side story of the episode. Without giving any specifics away, I'll just say that we've seen how weird Annie can get when her imagination and identity issues get the better of her. Things get dramatic for her in this episode. And Troy and Abed's friendship is once again put to the test.
Losing its showrunner could have had drastic consequences on the show, and two episodes isn't really enough to say whether or not Harmon's departure was the end of Community as we knew it. The series has had three seasons to define itself, and the first and third episode of the season seem to tap into that definition, delivering more of the whacky hijinks and ridiculous antics that we've come to expect from this likable batch of college misfits, while also continuing to tell their stories. Beyond the hijinks, at its core, Community has always been about a group of characters finding one another while searching for their own identities, told with humor and nostalgic homages to pop culture. The formula may not have yielded the spectacular ratings the series deserves, but it has earned fans' steadfast devotion through the years. The start of the season indicates that it'll stick to that, and hopefully we'll see more of what we've known and come to love from this show as the season progresses.
Community Season 4 premieres Thursday, February 7 at 8:00 p.m. ET on NBC.
Your Daily Blend of Entertainment News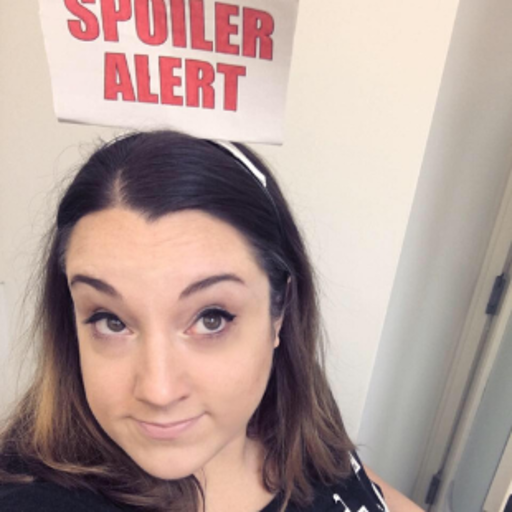 Assistant Managing Editor
Kelly joined CinemaBlend as a freelance TV news writer in 2006 and went on to serve as the site's TV Editor before moving over to other roles on the site. At present, she's an Assistant Managing Editor who spends much of her time brainstorming and editing feature content on the site.