Could Arrow Become A Movie? Here's What Stephen Amell Says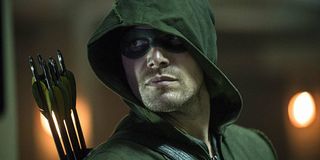 Regardless of whether or not you enjoyed the Arrow finale, there's no denying that Stephen Amell and his iteration of Oliver Queen remains a cornerstone of the DC multiverse. He's one of the most easily recognizable faces of Warner Bros. superhero properties, and many fans have long clamored for him to join the ranks of the silver screen Justice League alongside Ben Affleck and Gal Gadot. Amell himself seems quite aware of this desire, as he recently revealed that he has spoken at length with DC about potentially joining the DCEU.
Stephen Amell recently made an appearance on Larry King Now and explained that, while anything is possible, DC currently has no plans to bring Oliver Queen to the DCEU:
There's no denying that comic book fans would absolutely love to see Stephen Amell's Green Arrow make his way to the DCEU at some point in the near future. Although DC has admitted that there's no plan to bring him in, the infrastructure to do so is certainly in place. With established concepts like the multiverse and interdimensional travel, Oliver Queen could eventually encounter beings like Batman and Wonder Woman – even if they do not technically inhabit the same universe. So many shake-ups seem to be occurring behind the scenes at DC right now, so if it were to come out and that they've decided to bring Green Arrow in, it wouldn't surprise any of us.
Quite a bit would need to happen before Warner Bros. would ever consider letting Stephen Amell's Oliver Queen cross over to the DCEU. For starters, Arrow would need a serious overhaul in terms of quality. Fans have generally panned the last two seasons of the once-great Emerald Archer series, and the show has largely begun to hemorrhage fans in the wake of this week's lackluster Season 4 finale. Stephen Amell has publicly stated that Season 5 of Arrow will take the show back to its basic elements, so we don't expect the character to make any radical departures or leaps in the very near future.
Bringing Oliver Queen into the ranks of the Justice League seems like a smart idea for DC, regardless of whether or not it's Stephen Amell's version. As a human character with a strong base in street level crime fighting, Green Arrow offers a look into the life of a hero who looks out for the little guy, rather than doing battle with huge monsters and aliens. The wildly popular Justice League Unlimited cartoon even gave him an expanded role with this very purpose, showing that he's the hero who keeps the more powerful members of the League grounded.
It's unclear at this point whether or not we will ever see any version of Oliver Queen on the silver screen. Fans would certainly love it, but there's still plenty of work that needs to be done in order to make that happen. We will keep you up to date with any and all updates on this matter as they become available to us.
Originally from Connecticut, Conner grew up in San Diego and graduated from Chapman University in 2014. He now lives in Los Angeles working in and around the entertainment industry and can mostly be found binging horror movies and chugging coffee.
Your Daily Blend of Entertainment News
Thank you for signing up to CinemaBlend. You will receive a verification email shortly.
There was a problem. Please refresh the page and try again.