The Craziest Thing Tywin Lannister Ever Did On Game Of Thrones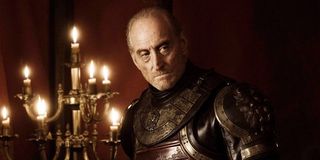 Game of Thrones is a fantasy drama set in a period less technologically advanced than today. With that in mind, the actors and actresses on the series know they will have to grapple with older weaponry, costumes and technology (not to mention magic and more). But sometimes the requests from producers are wilder than others. Recently, Charles Dance, known as Tywin Lannister by Game of Thrones fans, opened up about the craziest thing showrunners David Benioff and Dan Weiss ever asked him to do.
Apparently, while on set one day, the creators approached Charles Dance, asking him whether or not he was a vegetarian. After ascertaining the actor was cool with meat, they showed him a scene of Tywin skinning a 'stag.' Gamely, Dance agreed to shoot the scene.
Fans of Game of Thrones should remember the episode, though it occurred a while ago. So long ago, in fact, that Jaime Lannister still had two hands! The Season 1, Episode 7 scene followed a conversation between Jaime and Tywin, discussing what it means to be a Lannister and how to keep the family name at the top of the food chain. It's pretty impressive to see Dance capably butcher an animal while having a heated conversation with his son on the show—especially since he was only given one day to practice before the scene was actually shot.
Dance tells the Daily Beast it's the craziest scene he ever shot, which is saying something, considering the show is filled with battle scenes, crazy deaths, magic and dragons. In fact, his death came at the hands of his son, who used a crossbow to kill him on the privy. If we are talking about wild scenes to shoot, that probably takes top marks, as well. Still, how many non-hunters ever get the opportunity to gut and skin an animal?
While we may not see any animal skinning in Season 5, we may not have seen the last of Charles Dance on the show. Tywin Lannister did kick the bucket in Season 4, but the actor also recently spoke out to say audiences have not "seen the last of Tywin Lannister." We also know Game of Thrones is set to use flashbacks for the first time during Season 5. If the old curmudgeon does return, I'll be happy to witness a few more tongue lashings from the Lannister patriarch, with or without any guts in the scene.
HBO's Game of Thrones is expected to hit the schedule in the spring.
Your Daily Blend of Entertainment News
Reality TV fan with a pinch of Disney fairy dust thrown in. Theme park junkie. If you've created a rom-com I've probably watched it.
Your Daily Blend of Entertainment News
Thank you for signing up to CinemaBlend. You will receive a verification email shortly.
There was a problem. Please refresh the page and try again.