The Crazy Amount Of Money Joey Owed Chandler On Friends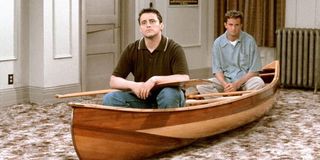 Friends is one of the most well-liked comedies of all time, and its popularity has been more apparent recently, thanks to the show turning 20 and heading to Netflix. Recently, one enterprising fan took a look at one of the comedy's most humorous plotlines—revolving around the oodles and gobs of cash Joey owed Chandler throughout the series—and found that by the end of the series, Joey actually ended up owing his friend more than $100,000.
During Friends, Joey was often an out-of-work actor, and he relied on his pal Chandler Bing to cough up for a lot of the two character's expenses on the show. Over at Reddit, some enterprising young estimators took a look at when and where Friends was set, estimating rent, utilities and other bills, along with the costs for the time Joey and Chandler's apartment was ransacked. Throw in some headshots and other random expenses, and the grand total is a whopping $119,760 dollars, give or take a few. Following the post, The Daily Dot did their own calculations and came up with the similar number of $120,760, so it seems highly likely that Joey owed Chandler well over 100k throughout the show's run. That definitely must have made a dent in Chandler's income… as an IT manager and later a writer.
It's always been kind-of a running joke that the cast of Friends were all living lifestyles well outside of their career means. They lived in spacious apartments in Greenwich Village in Manhattan, and they always seemed to have the money to cover vacations, eating out, and blowing a lot of money on cups of coffee each week. It's clear the entire gang lived in a fantasy world where money was concerned, but it's still pretty amusing to consider what their expenses would have cost them in real life.
Chandler never let the fact that he basically covered Joey's expenses for nearly three years when they lived together in the city affect their friendship, but it did get referenced on the show every now and again.
Chandler eventually got a better job and Joey eventually landed a solid gig as an actor on a soap opera. It all ended well for the characters, and the actors too; toward the end of the series, each of the cast members were pulling in $1 million per episode. Talk about being able to afford an apartment in Greenwich Village.
Your Daily Blend of Entertainment News
Reality TV fan with a pinch of Disney fairy dust thrown in. Theme park junkie. If you've created a rom-com I've probably watched it.