The Crazy Ones Review: Robin Williams And Sarah Michelle Gellar Pair Well For Comedy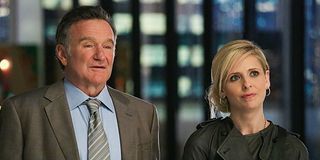 Unlike the other major networks, CBS seems content to continue producing multi-camera comedies, to great success. But the network isn't entirely averse to the single-camera format, as evidenced by The Crazy Ones. When you have talent like Robin Williams and Sarah Michelle Gellar, I suppose any format will do. The Crazy Ones' pilot episode lives up to its previews in being a charming, funny, heartfelt comedy that's a little bit workplace and a little bit family, with a lot of Robin Williams-style humor worked in for good measure.
Created by and executive produced by David E. Kelley, The Crazy Ones stars Williams as advertising genius Simon Roberts, while Gellar plays his daughter Sydney, who also happens to be his business partner. Roberts is energetic and outlandish in exactly what you'd expect from the frequently riffing funny man, Williams, while Sydney is a bit more reserved, not always eager to follow along with her fathers lightning-fast line of thinking and goofy behavior. The series premiere has them scrambling to impress their client -- McDonalds -- in an effort not to lose their business, which leads to Roberts promising to delver a pop star to headline the brand's new ad campaign, which is where Kelly Clarkson comes in, playing herself. Of course, selling Kelly on the concept has its own challenges and more amusing (and occasionally musical) moments ensue as a result. The episode gives us some insight into the working relationship of Sydney and her father, while also sampling what could be a workplace ensemble.
As a stand-alone episode, The Crazy Ones works, but it almost didn't feel like the series premiere, and I think the issue there comes down to the giant guest star in the room. I like Kelly Clarkson. She's beautiful, she has an amazing voice, and her acting abilities are skilled enough that she can hold her own playing herself without a hint of awkwardness. But I think I would have rather they saved the celebrity guest star appearance for later in the season after we've had the chance to get to know the main characters a bit. As it is, it feels like a stunt, and The Crazy Ones doesn't need that with its introduction. (You had us at Robin Williams and Sarah Michelle Gellar, CBS!) So while Clarkson's appearance works for the episode, I don't think it works for the series premiere, as i was left wishing I had more time to get to know the core cast a bit better. On the bright side, I was left wanting more, so that's something. There are hints of a great dynamic between Gellar and Williams, both in humor and in the emotional side of the story as we try to find the blurry line between partners and father/daughter pair.
Beyond that, I'm intrigued by what David E. Kelley is doing here, as it's a shift from what we're used to from the writer. The workplace element and humor mixed with drama feels in line with what we've seen from Kelley in the past with shows like Ally McBeal, Boston Legal and some of his other hour-longs, except the ratio of humor to drama is a bit more skewed in favor of the former, and we're dealing with a half-hour format. But even with the focus on comedy and the shortened format, there are elements about this show that still feel like a David E. Kelley show, except in sitcom form, and that's a good thing. It's a shift, but probably a good one when we factor in Williams, who's adept at drama, but at his best when he's making people laugh. The Crazy Ones' opener is funny, charming and a bit different from anything else on CBS right now.
The Crazy Ones (opens in new tab) premieres Thursday, September 26 at 9/8c on CBS.
Read some highlights from Robin Williams' Reddit Ask Me Anything here.
Your Daily Blend of Entertainment News
Assistant Managing Editor
Kelly joined CinemaBlend as a freelance TV news writer in 2006 and went on to serve as the site's TV Editor before moving over to other roles on the site. At present, she's an Assistant Managing Editor who spends much of her time brainstorming and editing feature content on the site.