Cruel Intentions First Look: Check Out Sarah Michelle Gellar As A Brunette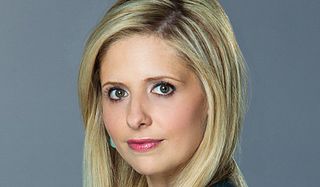 Cruel Intentions is coming to TV with a plot that directly connects it to the famous 1999 film of the same name. Because it's directly connected, that should open up opportunities for any of the living characters from Cruel Intentions to return, and Sarah Michelle Gellar dropped a bombshell a couple of weeks ago when she announced she would star in the upcoming TV series, reprising her same character. Now, she's dropped the blonde and gone back to her character Kathryn Merteuil's signature brunette look. You can check it out, below.
Sarah Michelle Gellar took to Instagram earlier this week to tease her new dark tresses and she later revealed the full look in all its glory. Her character on Cruel Intentions has always been a bit more suited to dark hair, possibly because of her dark nature, or maybe just because her hair juxtaposed so nicely with the other female lead in the movie, Reese Witherspoon's Annette. Regardless, her character was brunette back in 1999 and she'll be brunette in 2016, too.
So far, Cruel Intentions isn't guaranteed to make it to air. Currently, NBC has ordered a pilot for the project, which is set to follow Kathryn Merteuil as she tries to gain "the soul" of her brother Sebastian (Ryan Phillippe) and Annette Hargrove (Reese Witherspoon)'s child, Bash, not to mention make some major plays to take control of Valmont International. At the end of Cruel Intentions, Kathryn was seen as the villain of the movie and her secret cache of drugs was found. It's been years since then and maybe she's figured our a way to rework her reputation. We'll find out if the project moves forward.
Although Sebastian, for obvious reasons, is not a part of the series, Annette Hargrove will also be back, although the character has been recast and will be played by Kate Levering. The series will also focus on Bash, who will be 16 years old at the start of the series. He will discover his father's famous journal from the original movie and it will lead him down a rather sordid path. Roger Crumble, who wrote and directed the first film, is also involved with the TV project.
Typically networks make decisions about new shows in May, although sometimes we'll hear about something moving forward a little earlier or later. For now, if you'd like to check out our list of all the remakes, reboots and continuations that are currently in development, head here.
Amazing Race & Top Chef superfan with a pinch of Disney fairy dust thrown in. If you've created a rom-com I've probably watched it.
Your Daily Blend of Entertainment News
Thank you for signing up to CinemaBlend. You will receive a verification email shortly.
There was a problem. Please refresh the page and try again.