How Cruel Intentions Brought Reese Witherspoon, Ryan Phillippe And Their Kids Back Together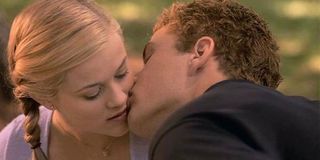 Cruel Intentions. It was an adaptation of Choderlos de Laclos's Dangerous Liaisons made for Generation Y. It was a hit romance that starred real-life couple Ryan Phillippe and Reese Witherspoon, who later married. And now it's a bit of nostalgia that's helped the divorced pair reconcile their shared past for the sake of their kids.
The Huffington Post recently spoke with Ryan Phillippe, who shared a charming story about how Cruel Intentions has helped smooth the relationship between himself and ex-wife Reese Witherspoon. Phillipe described learning how to co-parent while divorced as a "feeling out process," but notes he and Witherspoon have managed a balance when it comes to raising their kids, who are now 15 (Ava) and 10 (Deacon). He recalled a visit the four shared while Witherspoon was in New York City promoting both Gone Girl and Wild:
Ryan Phillippe and Reese Witherspoon were dating before Cruel Intentions shot, which may have lent some of the sizzle to their scenes together playing the sultry playboy Sebastian Valmont and the sugary sweet virgin Annette Hargrove. While their characters' romance was thwarted in the movie (by that villainous coke fiend played with scintillating viciousness by Sarah Michelle Gellar), Ryan Phillippe and Reese Witherspoon married shortly after the movie premiered on March 5th, 1999.
From there, Reese Witherspoon went on to star in such well-received features as Election, Legally Blonde and Walk The Line, which won her the Academy Award for Best Actress. For his part, Ryan Phillippe landed roles in such heralded dramas as Gosford Park, Igby Goes Down and Flags of Our Fathers. But he did not find the prolonged commercial success of his wife. When the two divorced in the fall of 2007, a collective gasp came from twenty-somethings who'd had pictures of this beautiful and happy couple in their high school lockers. But this isn't an unhappy ending.
While there marriage hasn't lasted, Phillippe and Witherspoon's admiration for each other has, allowing them to be great parents to their kids as well as a new kind of inspirations to their fans.
Look for Ryan Phillippe in Catch Hell, a thriller he co-wrote, directed and headlines that opened October 10th.
Your Daily Blend of Entertainment News
Staff writer at CinemaBlend.
Your Daily Blend of Entertainment News
Thank you for signing up to CinemaBlend. You will receive a verification email shortly.
There was a problem. Please refresh the page and try again.